Just the Facts: WNBA Finals Notes, Probable Starters and Preview Roundup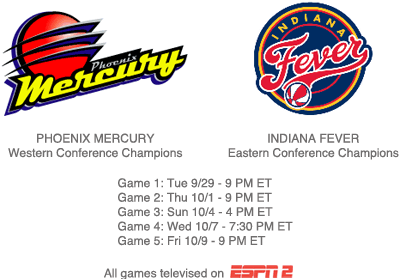 The Phoenix Mercury is seeking its second WNBA title in three years. The Indiana Fever is in the hunt for its first after having the best season in the franchise's 10-year history. Both teams won their regular season titles. The Mercury had the best record in the league while the Fever was second. The best-of-five series pits Phoenix's offense, the most prolific in the history of the league against one of the best defenses the WNBA has ever seen in the Indiana Fever.
The teams split their regular season series 1-1. The road team won each game. Indiana was the best home team in the WNBA this season (14-3), while Phoenix was the best road team (11-6). Phoenix is one of only three teams to have won at Indiana this season. The Fever's leading scorer Katie Douglas missed the teams' last meeting on September 2 with an injured ankle.
The University of Connecticut has the most graduates in the final with three: Ketia Swanier, Diana Taurasi and Jessica Moore. There are two players each from Auburn (DeWanna Bonner, Le'coe Willingham), Rutgers (Cappie Pondexter, Tammy Sutton-Brown) and USC (Ebony Hoffman, Eshaya Murphy). The other schools represented are Louisiana State, Penn State, Kansas, Kansas State, Stanford, Iowa, Tennessee, Ohio State, Purdue, Arizona State and Vanderbilt.
The three foreign players are from Canada and Australia: Canadian Tammy Sutton-Brown and the two Aussies, Penny Taylor and Tully Bevilaqua. Taylor and Bevilaqua are teammates on the Australian National team, the Opals.
The Awards tally so far:
Phoenix Mercury roster (23-11)
NO. — PLAYER — POSITON — HEIGHT — COLLEGE/NATION — YRS
24 — DeWanna Bonner — G — 6-4 — Auburn — 1st
2 — Temeka Johnson — G — 5-3 — Louisiana State — 5th
33 — Kelly Mazzante — G — 6-0 — Penn State — 6th
30 — Nicole Ohlde — F-C — 6-5 — Kansas State — 6th
23 — Cappie Pondexter — G — 5-9 — Rutgers — 4th
21 — Brooke Smith — F-C — 6-3 — Stanford — 2nd
50 — Tangela Smith — C — 6-4 — Iowa — 12th
11 — Ketia Swanier — G — 5-8 — Connecticut — 2nd
3 — Diana Taurasi — G-F — 6-0 — Connecticut — 6th
13 — Penny Taylor — F — 6-1 — Australia — 8th
43 — Le'Coe Willingham — F — 6-0 — Auburn — 6th
Head coach: Corey Gaines (College – Loyola Marymount)
Assistant Coaches: Julie Hairgrove ( (College – Arizona) ), Bridget Pettis (College – Florida)
INDIANA FEVER roster (22-12)
NO. — PLAYER — POSITON — HEIGHT — COLLEGE/NATION — YRS
41 — Tully Bevilaqua — G — 5-7 — Australia — 10
24 — Tamika Catchings — F — 6-1 — Tennessee — 7
50 — Jessica Davenport — C — 6-5 — Ohio State — 2
21 — Tamecka Dixon — G — 5-9 — Kansas — 12
23 — Katie Douglas — G-F — 6-0 — Purdue — 8
32 — Ebony Hoffman — F — 6-2 — USC — 5
20 — Briann January — G — 5-8 — Arizona State — R
31 — Jessica Moore — F-C — 6-3 — Connecticut — 4
14 — Eshaya Murphy — G — 5-11 — USC — 2
8 — Tammy Sutton-Brown — C — 6-4 — Rutgers — 8
34 — Christina Wirth — F — 6-1 — Vanderbilt — R
Head Coach: Lin Dunn (College – Tennessee-Martin)
Assistant Coaches: Gary Kloppenburg (College – UC San Diego), Jim Lewis (College – West Virginia)
Fever:
Tamika Catchings, averaged 13.7 ppg in the three-game Eastern Conference Finals vs. Detroit
Ebony Hoffman, scored in double-figures for the second straight game with 10 points in Game 3 vs. Detroit
Tammy Sutton-Brown, led the Fever to its Game 3 win over Detroit, 9/26, with 17 points
Katie Douglas, team's leading scorer for the second year in a row
Tully Bevilaqua, tied with Shannon Johnson for fifth on the WNBA's all-time career steals list
Mercury:
Cappie Pondexter, scored 20+ points in 18 of 34 games this season
Le'Coe Willingham, led team in FG percentage (.533, 3rd – WNBA)
Tangela Smith, led the WNBA in three-point shooting (.452)
Diana Taurasi, led WNBA in scoring (20.4 ppg)
Temeka Johnson, averaged 4.6 assists per game (5th –WNBA)
Saturday, August 8. US Airways Center. Phoenix, AZ: Fever 90, Mercury 83 | Box score | Highlights
Indiana Leaders: Katie Douglas (28 pts., 10 reb., 5 ast.), Jessica Moore (19 pts., 8 reb.)
Phoenix Leaders: Diana Taurasi (16 pts., 5 reb.), DeWanna Bonner (15 pts., 5 reb.)
Wednesday, September 2, Conseco Fieldhouse. Indianapolis, IN: Mercury 106, Fever 90 | Box score | Highlights
Phoenix Leaders: Cappie Pondexter (25 pts., 4 ast.), DeWanna Bonner (15 pts.)
Indiana Leaders: Tamika Catchings (27 pts., 12 reb., 5 ast.), Tammy Sutton-Brown (19 pts.)