Larry Bird's free tickets to Fever game generates huge community response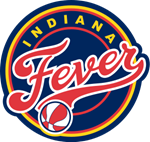 Last night the Indiana Fever announced that Indiana Pacers President Larry Bird purchased the entire Conseco Fieldhouse balcony for game three of the Eastern Conference Finals between the team and the Detroit Shock today. And in a dozen hours, all of the 9,000 available tickets were distributed.
"I am so proud of the Fever, who are now one game away from the WNBA Finals," said Bird. "I want all the fans to come to the game and get behind this team for the biggest game in Fever history. So, bring the whole family and the balcony tickets are on me."
The Indianapolis community responded and the free tickets made available by Bird's generosity were completely gone just past noon on Saturday—only two hours after the Conseco Fieldhouse box office opened.
Fans began arriving outside Conseco Fieldhouse as early as 7 a.m., and approximately 200 people had gathered on The Fieldhouse steps by 9:30 a.m. By the time arena doors opened, several hundred fans filled the Clarian Health Entry Pavilion and over 3,000 tickets were given away in the first 30 minutes of distribution. Over 5,000 tickets were gone within an hour. By 12:15 p.m., the supply of free tickets was completely exhausted.
The Fever, which finished the regular season with the best record (22-12) in the Eastern Conference, evened its best-of-three series with longtime playoff nemesis and defending champion Detroit with a 79-75 win Friday evening.