Loyola Marymount rebounds from loss at SMU, sets record for threes in win over Long Beach State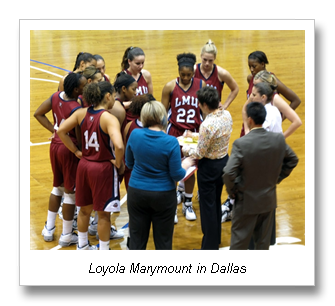 Just three days after losing their season opener in Dallas against Southern Methodist University 1,400 miles from their home turf of Los Angeles, Loyola Marymount rebounded with a 75-70 win over Long Beach State. In the final leg of a two-game road trip, LMU nailed 13 three-pointers, setting a school record in its first win of the season.
The Lions held off a 49ers late-game rally and notched their 10th straight victory over LBSU. LMU head coach Julie Wilhoit's squad handed incoming LBSU head coach Jody Wynn her first loss of the season. Wynn, hired in April, enjoyed considerable media buzz over the summer and during the preseason. Previously, she spent thirteen years as an assistant under LBSU alum Mark Trakh, first at Pepperdine and then at USC. Trakh resigned from USC the day after LBSU hired Wynn. He joined her on the bench Friday night as a "guest coach" for LBSU's first game against Prairie View A&M, a team under the leadership of former USC star and WNBA legend Cynthia Cooper-Dyke. LBSU defeated PVAMU 76-68.
Four players scored in double figures for LMU Monday night. All-West Coast Conference team members Alex Cowling and Renahy Young had 14 each. Cowling added 10 rebounds for her first double-double of the season, shooting 7-for-16 from the floor. Young posted all of her points in the second half, sinking four three-pointers and finishing 4-for-9 from the floor to reach 800 points for her career. Sophomore Candice Nichols added 12 points on four threes and junior Jessica Vargas contributed 11 points on 5-for-6 shooting and five rebounds. Senior Lisa Helmers added nine points, all on first-half threes.
While the 49ers (1-1) outrebounded the Lions, 38-35, and owned a better field goal percentage, LMU took advantage of 16 LBSU turnovers and shot 46.4 percent from three-point range.
Senior Karina Figueroa paced LBSU with a game-high 21 points plus five assists and five steals. Figueroa now has 1,028 career points. Senior Lauren Sims also finished in double figures with 14 points and just missed a double-double, grabbing eight rebounds. Fellow senior Ally Wade contributed nine points and eight boards.
LMU returns to its home floor at Gersten Pavilion for its home opener on Friday, hosting UC Irvine at 7 p.m. PT. The Lions then head back out on the road on Sunday to face Big West champions UC Santa Barbara at 2 p.m. PT.
Long Beach State kicks off a four-game road trip this week as it heads to New Mexico State on Friday, Nov. 20, for a 6 p.m. PT non-conference showdown. The 49ers then make their way to Texas-Pan American for game on Sunday, November 22 with tip-off set for 11 a.m. PT.