Tragic loss for a young player in San Antonio, South Texas Hoyas spearhead support
Update: WNBA player Charde Houston of the Minnesota Lynx set up an online fundraiser to help the young basketball player and her younger brother. Houston's organization Project Y.O.U. has more information and donation details: Project Y.O.U. fundraiser.
While the nation's top women's basketball teams prepare for a showcase at San Antonio's AT&T Center, a young player in the city is coping with the loss of her biggest fan.
Saturday morning, the mother of an 11 year-old player for the South Texas Hoyas, an AAU girl's basketball team in San Antonio, died in a fatal domestic violence incident. Police arrested Tabari Strong, suspected of killing the girl's mother and her friend. He led police on an hour-long car chase before being caught and detained. He is being held in the Bexar County Jail on two counts of capital murder. Bond for Strong was set at $2 million.
The coach of the Hoyas, Theresa Nunn, and one her colleagues are seeking help from the community to provide shelter and funds for her player who also has an eight year-old brother.
An email sent out by a fellow coach:
Coaches,

It is with deep sympathy that I inform you of the tragic loss incurred by an 11-year-old member of our San Antonio Basketball Family. On Saturday morning, the 6th grade girl who plays for the South Texas Hoyas and Coach Theresa Nunn, lost her mom who was fatally shot (twice in the head with a shotgun). The young girl and her 8-year-old brother are now also homeless because the mother died without life insurance or adequate funds for allowing the kids to remain in their apartment.

Please search your heart for the motivation to assist this family through an extremely rough situation by contributing any monetary donation or gift card to enable the purchase of clothes, toiletries, and other essentials for the kids.

The point of contact for your donation is Coach Nunn. She will provide applicable address / account information if you notify her at theresa.nunn@southtexashoyas.com.
And from Nunn's email:
This 11 year-old girl has not only lost her mother, but her number one fan. However, she has expressed that she wants to continue to play basketball, because it is her passion and her mother was so proud of her daughter being a basketball player.   So I would like to put a couple of fund-raising events together to ensure that she will be able to continue to do so, without her or her family ever having to worry about ANYTHING. I will keep everyone updated as to when we will be holding our fund-raising events, and I would appreciate anyone that would like to volunteer in our efforts.
The Hoyas online: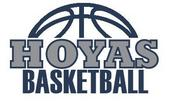 News articles on the tragedy: