Baylor victory over Louisiana Tech no consolation for Mulkey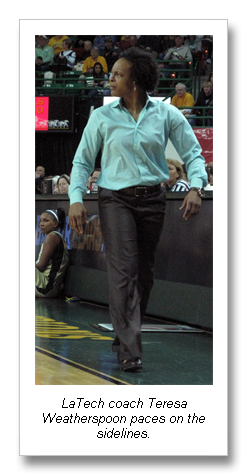 After Saturday's night's 77-67 victory over Louisiana Tech in a match filled with nostalgia and historic overtones, Baylor head coach Kim Mulkey was not in a celebratory mood. A season-high crowd of 6,582 in Waco watched the Lady Bears receive their Big 12 championship rings then get tested for the first time since losing the season opener to Tennessee.
No team has finished closer than 20 points to No. 8 Baylor in the Lady Bears' last seven games. However, the unranked Lady Techsters managed to overcome a 24-point deficit in the second half and finish just ten points shy of Baylor. Both teams started slowly with low scoring percentages and turnovers.
"I thought both teams missed wide open shots," said Mulkey. "I will tell you it wasn't great defense on our part; we just missed wide open shots to start the game. I thought we started very passive defensively and I thought on our end offensively we just missed shots."
Baylor looked fatigued in the second half, and the smaller LaTech team exploited that weariness.
"I thought we extended the lead," said Mulkey, "then we became complacent and had no fire or energy."
LaTech, coached by alum and former WNBA star Teresa Weatherspoon, never backed down from the larger and more athletic Baylor squad.
"I am extremely proud," said Weatherspoon, "extremely proud of the way our kids fought from beginning to end. When you are having your All-American [Tavasha Anderson ] sitting over on the bench, it is kind of tough for our kids with the height we had to deal with. One thing that is truly pleasing is we never give up no matter what the deficit might be; we never give up."
Mulkey, disappointed with her team for squandering a large lead, aimed her harshest criticism at her returning players.
"I was most disappointed with Kelli Griffin and Melissa Jones. Your freshmen today at Baylor came through for you; your returning players did not."
Starting freshman Brittney Griner had 22 points, eight rebounds and six blocks for Baylor (7-1), while Jones added nine. Griffin finished with seven. Jones and Griffin are both juniors.
While Baylor's starters struggled against LaTech's gutsy man-to-man defense, freshman Jordan Madden and Shanay Washington picked up the slack for the team.
"I thought Jordan Madden came off of the bench and gave us a spark. The more she does that, the more confidence I gain in her and the more minutes she plays. She is lightening quick and she runs the floor and she gets in passing lanes. When a kid can come in and give you a spark, you bet it gets my attention."
Mulkey gave Washington mixed reviews.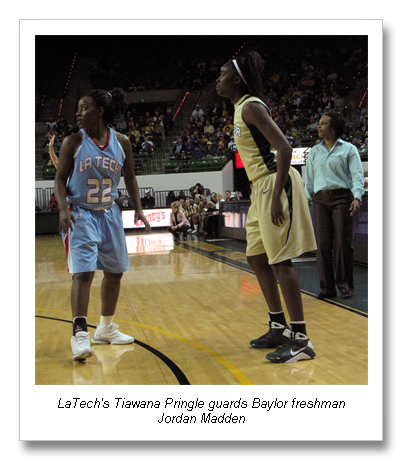 "She did some good things and then she did some bad things, but that is to be expected. As she continues to get the minutes she is just going to get better and better."
Even though she ripped into her team's performance, Mulkey's tone changed when she spoke about LaTech and her professional relationship with Weatherspoon.
"Give Teresa Weatherspoon credit, she's got guts," Mulkey said of the LaTech coach. "She played man-to-man when nobody else would play man-to-man against us, and I loved every minute of it."
Weatherspoon had no qualms about playing man defense against Baylor.
"That is our identity," she said. "That's who we are. We are man-to-man. We are in your face."
Weatherspoon, who played under Mulkey and Baylor assistant Leon Barmore at Louisiana Tech, focused on the positives her team could gain from the loss.
"We were in a battle with an incredible basketball team," she said. "It has given us a good deal of confidence of who we are, where we are and where we are going."
LaTech senior Shanavia Dowdell had 17 points and nine rebounds for the Lady Techsters (3-2), while junior Tarkeisha Wysinger scored 13.
Mulkey is a former Lady Techster player and assistant. She won two national championships as a player (1981, AIAW; 1984, NCAA) and one as an assistant (1988) when Weatherspoon was the starting point guard.
Baylor's next game is against Boston College on December 13 in the fourth annual Maggie Dixon Classic at New York City's Madison Square Garden. The game tips off at 1 p.m. ET and will be televised on ESPNU.
Louisiana Tech, now 3-2, travels to Bowling Green, Kentucky for game against the Western Kentucky Lady Toppers on December 9.
Related
T-Spoon, Mulkey and Barmore: Louisiana Tech reunion when No. 8 Baylor hosts the Lady Techsters
Around the Web