Brittney Griner earns first triple-double in Baylor history in win over Oral Roberts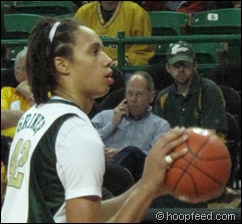 Baylor freshman Brittney Griner entered the record books Wednesday night with the first triple-double in the school's history. She finished with 34 points, 13 rebounds and 11 blocks. She set a Big 12 record for blocks in a game. Her triple-double is the 14th in Big 12 history and she is the ninth player to reach that milestone.
Baylor beat Oral Roberts before a crowd of 6,282 in Waco and improved to 5-2 all-time against the Tulsa, Okla. school. Freshman Kevi Luper led ORU with 32 points. She entered the game as the country's leading scorer averaging 27.1 points per game.
In addition to Griner, three other Baylor players scored in double figures including junior Melissa Jones who nearly had a triple-double. She finished with 15 points, nine rebounds and nine steals. Senior Morghan Medlock had 16 points and sophomore Ashley Field finished with 15.
Griner is the current Big 12 Freshman of the Week marking the second time she has picked up the honor.
Notes:
Griner's 11 blocks moved her into fifth place on Baylor's single-season blocks list with 61 on the season. Griner passed Kacy Moffitt (45), Melanie Hamerly (48), Maggie Davis Stinnett (48), Bernice Mosby (51) and Steffanie Blackmon (58). She needs 25 more blocks to break former Lady Bear Danielle Wilson's single season record of 86.
Griner and Medlock scored in double-figures for the ninth time this season. Griner set career-highs in points and blocks.
Jones scored in double-figures for the seventh time this season. She also recorded a new career-high with nine steals. The nine steals was the most by a Baylor player since Mary Lowry had nine against Eastern Illinois on Dec. 5, 1992.
Kelli Griffin tied a career-high with eight assists.
Baylor's 15 steals in the game is a season-high.
Oral Roberts' namesake founder died Tuesday at the age of 91 from complications of pneumonia.