Nicole Powell is first pick in Dispersal Draft of Sacramento Monarchs players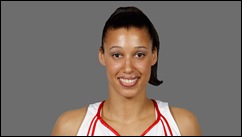 The New York Liberty selected Nicole Powell with the first pick in the WNBA's Dispersal Draft of Sacramento Monarchs players held December 14 via conference call. Teams drafted in inverse order of their regular season finish in 2009.
The Minnesota Lynx chose Rebekkah Brunson with the second pick while the Connecticut Sun took DeMya Walker with the third selection. The Chicago Sky selected Courtney Paris and the San Antonio Silver Stars took Laura Harper to round out the top five picks.
A 6' 2" forward, Powell completed her sixth season ranked as the WNBA's No. 1 free throw shooter (.979), one of the league's top 10 leading scorers and one of the top 20 three-point shooters. Powell made her first WNBA All-Star appearance this past summer, posting 21 points in 21 minutes off the bench for the winning Western Conference team. She is currently overseas competing for Fenerbahce of the Turkish League
"Nicole Powell is a wonderful addition to our roster, coming off her finest season in the WNBA," said Liberty head coach Anne Donovan. "Her experience, shooting range and size will be a huge addition to our perimeter game."
Powell won the 2005 WNBA Championship title in her first season in Sacramento while averaging 10.7 points and 3.6 rebounds per game. She was originally drafted by the Charlotte Sting as the third overall pick in the 2004 WNBA Draft. On March 3, 2005, she was traded to Sacramento as part of a three-player deal.
Any player on the Monarchs roster at the conclusion of the 2009 season was eligible for selection, including restricted free agents Kristin Haynie, Chelsea Newton and Scholanda Robinson. Unrestricted free agents Kara Lawson, Ticha Penicheiro and Hamchétou Maïga-Ba were not eligible for selection. These players, along with anyone not selected in today's dispersal draft, may begin negotiating with any team once the free agency period begins on Jan. 15. Teams not wishing to select a player had the option of passing.
Complete Results:
| | | | | | |
| --- | --- | --- | --- | --- | --- |
| Team (2009 Record) | Player selected | Pos | Height | Years | College |
| 1. New York Liberty (13-21) | Nicole Powell | F | 6'2 | 6 | Stanford |
| 2. Minnesota Lynx (14-20) | Rebekkah Brunson | F | 6'3 | 6 | Georgetown |
| 3. Connecticut Sun (16-18) | DeMya Walker | F/C | 6'3 | 10 | Virginia |
| 4. Chicago Sky (16-18) | Courtney Paris | C | 6'3 | 1 | Oklahoma |
| 5. San Antonio Silver Stars (15-19) | Laura Harper | F/C | 6'4 | 2 | Maryland |
| 6. Washington Mystics (16-18) | Kristin Haynie | G | 5'8 | 5 | Michigan State |
| 7. Tulsa (18-16) | Scholanda Robinson | G | 5'11 | 4 | Louisiana State |
| 8. Los Angeles (18-16) | Pass | | | | |
| 9. Atlanta (18-16) | Pass | | | | |
| 10. Seattle Storm (20-14) | Chelsea Newton | G | 5'11 | 5 | Rutgers |
| 11. Indiana Fever (22-12) | Pass | | | | |
| 12. Phoenix Mercury (23-11) | Pass | | | | |