TCU Overcomes Deficit To Take Down No. 10 Texas A&M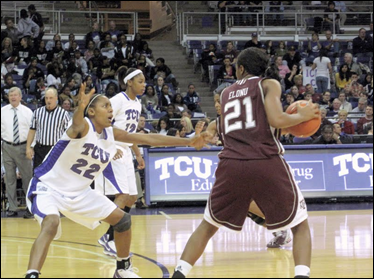 FORT WORTH, Texas — Unranked Texas Christian (7-3) took down No. 10 Texas A&M (7-1) Saturday night after coming back from an 11 point deficit in the last five minutes of the game. The Frogs, spurred by the gutsy play of junior Helena Sverrisdottir, won the second of five straight games against Texas teams before a crowd of 4,003 at the Daniel-Meyer Coliseum in Fort Worth. It was the Frogs' twelfth straight victory on their home court.
Aggies coach Gary Blair was not surprised that TCU beat his highly-regarded squad. He described TCU as "the best team in Texas outside of the Big 12."
Even so, the large numbers of Aggie faithful who drove the 175 miles from College Station were a rowdy, boasting crowd until their hopes of victory faded in the last few minutes of the contest.
While A&M led for most of the first half, TCU stayed close behind, showing parity with the Aggies. However, in the last three minutes, A&M turned up the defensive pressure, rattling TCU's offense. The Frogs missed several shots while the Aggies developed a good rhythm against TCU's man-to-man defense.
"When they played us man, we were able to pick away," Blair said, "take them off the dribble a number of times and get a couple of good transition baskets."
A&M built an eight-point lead as the half came to a close but starting TCU freshman Starr Crawford fired up the crowd in the last seconds with a strong block of a shot from sophomore Sydney Carter.
The beginning of the second half did not look promising for TCU as A&M ran roughshod over them, racking up a fourteen point lead. With ten minutes to go in the game, Sverrisdottir drained a three-point shot then promptly stole the ball and made a lay-up.
The native of Iceland made the shot because A&M stopped her from penetrating.
"I was supposed to drive baseline, but they cut me off," she said. "I don't really know what happened. I was open for a split second and just threw it up there. I did not think it was a good shot, but it went in. That got us really hyped at that point and we were ready to give it our all on defense."
With each possession, TCU narrowed the lead. With a minute and half left in the game, Sverrisdottir tied it up with another trey. A&M turned the ball over and fouled TCU guard TK LaFleur. The senior made both shots giving her team the lead for the first time in the half at 56-54. A&M went scoreless over the game's final 3:52, stymied by TCU's zone defense.
"When they went to the zone, we got spastic," Blair said. "TCU does a great job of playing a pretty wide 2-3 zone and hustling."
TCU coach Jeff Mittie praised his team for continuing to fight in the face of a double-digit deficit.
"It was a great finish," Mittie said of his team's second half tenacity. "I thought that we made a lot of plays down the stretch and I think that was huge for us. We knew this was going to be a really hard-fought game."
Earlier in the week, TCU beat another Texas team, Southern Methodist University. After that game, Mittie indicated that he wanted his team to prove they could finish strong.
"We thought the second half of the SMU game was a real step forward for our team," said Mittie. "Can you carry that over and string another good performance against another good team that is ranked in top five? I think this makes it big."
"This is the first time this year that we have strung back-to-back good games together. We had the Kansas win and went to North Carolina State and did not play very well out there. This is stringing two very good wins back-to-back."
TCU had three players in double digits. Sverrisdottir had 18, eight rebounds and seven assists. LaFleur scored 15 and junior guard Emily Carter had 11. Those three players combined to score 32 of TCU's 34 points in the second half.
A&M sophomore Tyra White scored 16 points, the only player on her team in double figures. Junior Danielle Adams did not play. She is suffering from a concussion and did not receive a medical clearance to compete in the game.
The Aggies go out-of-state for their next couple of games. They travel to Nevada to compete in the Las Vegas Holiday Hoops Classic. They face No. 14 Arizona State in a rematch of last year's NCAA Sweet 16 meeting between the two schools on Saturday, Dec. 19 at 8:30 p.m. (CT) and Gonzaga on Sunday, Dec. 20 at 10:45 p.m. (CT).
The Frogs return to their home court next Sunday, Dec. 20, when they take on Sam Houston State at 1 p.m. CT.