Former Detroit Shock assistant Cheryl Reeve named head coach of the Minnesota Lynx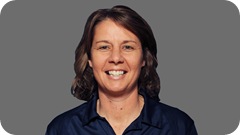 Minnesota announced former Detroit Shock assistant Cheryl Reeve as the new head coach of the Lynx. Former coach Jennifer Gillom is rumored to be in the running for the top coaching position of the Los Angeles Sparks. Gillom only coached the Lynx for one season after previous coach Don Zierden left for an assistant job with the NBA Washington Wizards in June.
"We are very excited to have hired Cheryl to lead our team," said Lynx Executive Vice President Roger Griffith. "She's been part of two WNBA championships in Detroit, has been in two other WNBA finals, and has been to the playoffs in seven of her nine seasons in the league.
Reeve coached four seasons as an assistant coach for the Detroit Shock. For two of those years she was also the Director of Player Personnel. Her duties included planning defensive strategies and player development, concentrating on guard development and perimeter play, and evaluating WNBA, international players and college draft prospects.
"I'm looking forward to this exciting opportunity to lead the Minnesota Lynx," said Reeve. "I believe that with the rising young talent on this team, the return of Seimone Augustus, and the additions we'll make to the roster this offseason, the time is now for the Lynx to be the best in the West. I have spent the last four WNBA seasons competing for championships and look forward to doing the same with the Lynx."
Reeve began her WNBA career with the Charlotte Sting in 2001 when she joined Anne Donovan's staff as an assistant. After posting an 8-24 record the year previous, Charlotte turned things around in Reeve's first year by going 18-14 and advancing to the WNBA Finals. They followed in 2002, with another 18-14 mark and their second straight appearance in the postseason.
Following the 2002 campaign, Donovan left to become the head coach of the Seattle Storm, and Dan Hughes and the Cleveland Rockers hired Reeve away from Charlotte.
Prior to joining the WNBA, Reeve served as head coach at Indiana State from 1995-1999. She improved the team's record each season, and led the squad to its first postseason berth in 20 years following the 1998-1999 campaign. Reeve also spent five seasons as an assistant coach at George Washington. The Colonials posted five 20-win seasons, captured three Atlantic 10 Conference Championships and appeared in four NCAA tournaments during Reeve's stint at GW.
As a player at La Salle, Reeve led the nationally-ranked Explorers to a 25-5 record in 1987-1988. She was named All-Metro Atlantic Conference and was an All-Big 5 selection as a senior. Reeve holds the school record for most games started (110) and ranks fourth on La Salle's career assist leader board (420).
Reeve excelled athletically and academically at La Salle, graduating with a degree in computer science/management information systems. A Rhodes Scholar nominee, Reeve received both a MAAC Scholar-Athlete Post Graduate Award and a NCAA Post-Graduate Scholarship in 1988. She went on to earn her master's degree in business administration from her alma mater while also serving two years as an assistant coach for the Explorers.
Jennifer "Grandmama" Gillom is the new head coach of the Minnesota Lynx