Winston-Salem State fires coach Dee Stokes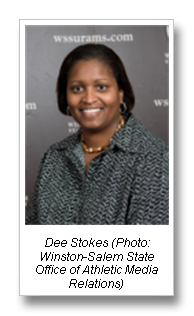 Winston-Salem State fired head women's basketball coach Dee Stokes today with just seven games left in the season.
Stokes announced in November that she planned to resign from the MEAC conference school at the end of the current season. Her overall record as a head coach is 69-142. The Rams are 2-21 and lost 67-26 to Hampton on Monday night.
WSSU's Director of Athletics Bill Hayes felt he had seen enough when he saw the team with a 50-point deficit during the Hampton game according to the Winston-Salem Journal. He decided to fire Stokes this morning.
"We are truly grateful for Coach Stokes' service to the university and to our student-athletes" said Hayes in a statement released by the university. "She has helped ensure the academic success of our student-athletes and played an important role in activities such as our recent inaugural Academic Cookout."
In the past few years, Stokes endured several personal tragedies.
"Recently I've gone through a lot of things personally," said Stokes on November 2, 2009 when she announced her plans for departure. "I lost three people who were very close to me, the hardest of which was the loss of my mom. I now know that God was preparing me for the next stage in my life and I truly believe that."
"I am looking forward to my last season on the bench," she continued. "I still want to win. I'm a competitor and I will truly enjoy this season."
She indicated that she felt a calling to work in a religious atmosphere.
"God has called me to something greater," said Stokes. "I believe he's called me to work at a Christian school in administration. That is my path for the future. God has called me away from coaching and that is clear."
She played two years at Wake Forest University before transferring to UNC-Charlotte where she received her undergraduate degree. She has a master's degree in public administration and is currently pursuing her doctorate in education.
WSSU season records for the last three years:
2008-09,  6-23
2006-07, 3-25
2006-07 , 8-21