WNBA players head to Dallas for NBA All-Star Weekend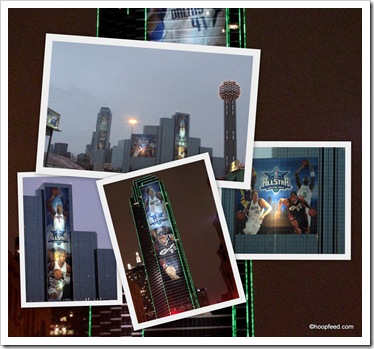 Make no mistake about it, everything is bigger in Texas. At least that is the impression Dallas Mavericks owner Mark Cuban wants everyone to have about the upcoming NBA All-Star weekend.
"It literally could be the largest party weekend in the history of the United States," he told the media last month. "That's how big this thing has gotten."
NBA commissioner David Stern met with the Dallas Morning News this week and talked at length about several topics including this week's activities and the WNBA.
When asked about the health of the women's league and the D-League, he answered optimistically.
"The WNBA is a building block because there's no other sport that can be positioned to have a functioning sister league that has the opportunity to take advantage of the growth of women's sports at the collegiate level and the importance of female consumers to all of our marketing partners and the like," he said. "It doesn't mean there's a rich tradition of women's professional team sports, but we're out there pushing it."
He also responded to a query about the possibility of a team in the Dallas area.
"We had some discussions with a number of people who have been developing buildings and thought a smaller venue would make sense in Dallas – North Texas, I would say. But right now, we've stabilized at 12. We're having some discussions in the Bay Area, but I think we'll probably stay with 12."
The Biggest Party Ever?
Cuban, no stranger to hyperbole, started bragging about the size and breadth All-Star Weekend weeks ago. He said that the weekend could surpass the Super Bowl in size and glitz.
"The Super Bowl, from a television perspective, is the biggest event of the year," he said. "But for attendance and partying, All-Star Weekend will make the Super Bowl look like a bar mitzvah."
The game itself is Sunday, February 14, 2010 at the new Dallas Cowboys Stadium in Arlington, Texas, where a crowd of close to 100,000 is expected.
The city is dressed up for the occasion with gigantic billboards covering the sides of a few buildings including the iconic Bank of America skyscraper, two sides of the Hyatt Regency in the Reunion district and another on the Renaissance Hotel. Mavericks star Dirk Nowitzki towers over Dallas as he is featured at the top of the banner on the BOA building.
The city hosts the Super Bowl next year.
WNBA Players Head to the DFW
Several WNBA players are heading into town for the week of partying and sports activities. The league released the following list of players who will be in Dallas and their scheduled appearances:
February 10 and 11 – NBA/NWBA All-Star Wheelchair Classic Basketball Clinic – NBA and WNBA players and Legends will join National Wheelchair Basketball Association All-Stars to host a basketball clinic for local wheelchair-bound youth athletes.
February 11 – 'Vaccines for Teens' Event – Lisa Leslie will join NBA Legends and Dallas Mavericks player Matt Carroll to host a vaccination awareness event in partnership with Society for Adolescent Medicine for local students at William James Middle School in Dallas.
February 11 – NBA Fit All-Star Youth Celebration – Shameka Christon, Kara Lawson, Ticha Penicheiro, Marie Ferdinand-Harris, Asjha Jones, Scholanda Robinson and Alana Beard will join NBA and NBA D-League players to teach over 1,000 youths across North Texas about the importance of physical activity and healthy living.
February 12 – NBA All-Star Celebrity Game presented by FINAL FANTASY XIII – Becky Hammon and Angel McCoughtry will compete with celebrities from TV, film and music at Center Court at NBA All-Star Jam Session.
February 12 – NBA Cares All-Star Day of Service – WNBA players will join over 1,500 NBA family members at three locations across North Texas to create and refurbish eight places to live, learn and play in conjunction with KaBOOM! Build, North Texas Volunteer Center, HP, Rebuilding Together and Timberland.
February 12 – T-Mobile Rookie Challenge & Youth Jam – WNBA players will watch the T-Mobile Rookie Challenge with over 3,500 area kids who complete fitness, nutrition and community service requirements.
February 13 – NBA Fit Area – Ashley Robinson, Asjha Jones, Ticha Penicheiro and Lynette Woodard will greet fans at NBA Fit Area in NBA Jam Session.
February 13 – Haier Shooting Stars – As part of NBA All-Star Saturday Night, Nicole Powell, Angel McCoughtry, Becky Hammon and Marie Ferdinand-Harris will team up with NBA Players and NBA Legends in the Haier Shooting Stars contest.
Around the Web: