Mel Greenberg says goodbye to the Inquirer but not to women's basketball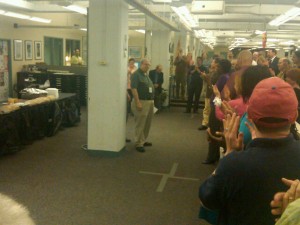 Twitpic from @jtannenwald: Farewell party for @womhoopsguru
He is known as the Guru. He is a walking encyclopedia of women's basketball history, mostly because he witnessed, chronicled and helped shape it for four decades.
I first met Mel Greenberg last year at the WNBA All-Star Game at Mohegan Sun Casino. I had read his columns and articles for years and was excited to finally meet him. Within minutes, he had already regaled me with a hilarious story about former Texas coach Jody Conradt, the Hill Country near Austin and big Texas bugs. We continued to chat, meandering through the shopping area of the casino to get donuts from Krispy Kreme. I listened to every word he said, amazed at the anecdotes that flowed from his brain.
I asked him about Twitter.com. He vowed that he would never sign up for an account on the social media service but months later, there he was, @womhoopsguru. I felt honored to not only be one of the first he followed but also because he told me later that @hoopfeed provided him with valuable updates on the road via his Blackberry.
This week was Mel's last as a sports writer for the venerable Philadelphia Inquirer. He posted his farewell speech on his blog and his colleague Jonathan Tannenwald posted some pictures of the farewell party on Twitter.
Mel is not leaving women's basketball. He promises his blog will continue somewhere, he does not yet know where. This is a relief because the man who created the original Top 25 women's college poll and who is the namesake of the media's highest honor for reporters in this field would be sorely missed if he gave up writing now.
I am thankful for his openness and willingness to help in the competitive atmosphere of sports writing. I am always amazed at his quick replies to emails and Twitter direct messages. But most of all, I am grateful for what he has contributed to women's basketball over the years. Here's to many more years of writing for "The Guru."
Cheers Mel.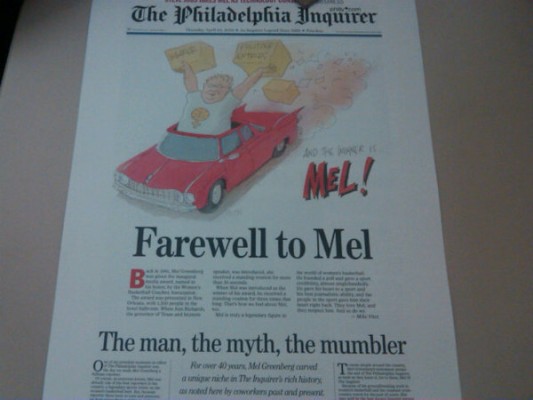 Twitpic from @jtannenwald of commemorative front page
Past Mel Greenberg Media Award Recipients
2010 – Dick Patrick
2009 – Chuck Schoffner, Associated Press
2008 – Dan Flesser, Knoxville News-Sentinel
2007 – Debbie Antonelli, Women's Basketball Analyst
2006 – Bill Jauss, Chicago Tribune
2005 – Dave Loane, University of Illinois
2004 – Tamara Flarup, University of Wisconsin-Madison
2003 – Mechelle Voepel, Kansas City Star, ESPN.com
2002 – Bob Kenny, Courier Post (Retired)
2001 – Robin Roberts
2000 – Vic Dorr, Richmond Times-Dispatch
1999 – Ann Meyers-Drysdale
1998 – Mary Garber, Winston-Salem Journal
1997 – Mitch Parkinson (deceased), Southern Illinois University
1996 – Debby Jennings, University of Tennessee
1995 – Mike Augustin (deceased), St. Paul Pioneer Press
1994 – Mimi Griffin, ESPN Sports Analyst
1993 – Jane Burns, Des Moines Register
1992 – Debbie Becker, USA Today
1991 – Mel Greenberg, Philadelphia Inquirer