Svet is back, Storm signs Abrosimova and releases Janell Burse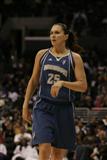 Svetlana Abrosimova returns to the WNBA to play alongside former college teammates Sue Bird and Swin Cash on the Seattle Storm.
"We are very excited to have Svetlana joining the Storm this season, as she is one of the more experienced perimeter players in the WNBA," said Brian Agler the Storm's head coach and director of player personnel about signing the veteran forward. "I had the pleasure of drafting her while coaching in Minnesota and I'm looking forward to working with her again. She is a very instinctual player with a tremendous amount of WNBA and international experience. Svetlana is a great three-point shooter and is excited to get back on the court with Sue and Swin, her former UConn teammates."
Abrosimova last played in the league for the Connecticut Sun during the 2008 season. She averaged 5.7 points, 3.3 rebounds, 2.0 assists and 1.3 steals in just six games for the Sun. She was selected by the Minnesota Lynx in the first round (seventh overall) of the 2001 WNBA Draft.
Abrosimova, Bird and Cash helped lead the University of Connecticut to its second NCAA title in 2000 when UConn beat Tennessee in the final 71-52 in front of a crowed of 20,060.
Overseas, the native of Leningrad plays for the Russian team UMMC Ekateringburg. She averaged 5.6 points, 2.5 rebounds and 1.3 assists in 16.3 minutes per game during 2009-10 EuroLeague play.
In another transaction, the Storm released 6-5 center Janell Burse from her contract. Burse, who will not return to the team for her 9th season in the league, played in all 34 games during the 2009 season. She averaged 6.1 points and 3.1 rebounds per game. After a standout college career at Tulane University, she was drafted by the Minnesota Lynx in the second round (28th overall selection) of the 2001 WNBA Draft. She joined the Storm in April of 2004.
The Storm opens its regular season on Sunday, May 16 in a matchup versus the Los Angeles Sparks in Seattle
Around the Web: