Baylor Lady Bears maintain reign in the Big 12, denies Texas A&M's quest for revenge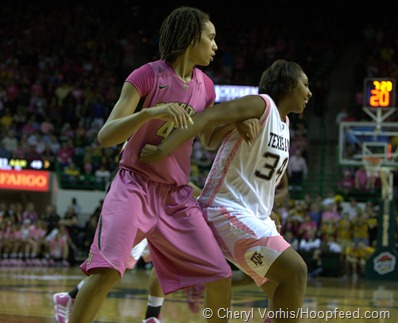 Baylor's Brittney Griner and Texas A&M's Karla Gilbert
Slideshow: Texas A&M at Baylor, February 14, 2011
WACO, Texas – Texas A&M rolled into Waco on a wave of confidence backed by a three-game winning streak with support by three busloads of fans from College Station Monday night. The Aggies had payback on their minds but failed in the attempt, losing to Baylor 67-58.
After Texas A&M's victory over the Kansas Jayhawks Saturday night, Aggies senior Danielle Adams, this week's Big 12 Player of the Week, reiterated comments she made about Baylor two weeks ago.
"I think we're pretty confident going into the game Monday," she said about facing Baylor. "The first time we played them we knew we could beat them. I made some stupid fouls in the first game, but I know we can beat them and so does everyone else. A win in Waco and to knock off the No. 1 team would be great."
A&M's most recent win streak only began after Baylor (24-1, 11-0) came to town and beat them in front of a sell-out crowd. A&M (21-3, 9-2) hoped to return the favor, to even up the season series, but their hopes of upsetting the No. 1 team in the nation and the Big 12 leader were dashed in the last three minutes of a hard fought, intense contest in front of a raucous sea of pink, a sellout crowd of 10,299.
"We did everything right until the last three and a half minutes," said A&M head coach Gary Blair, "and they did everything right in the last ten minutes of the game. "
The contest, a Women's Basketball Coaches Association Pink Zone game for breast cancer awareness, was a defensive battle from beginning to end. A&M's defense led Baylor to turn the ball over early. Baylor committed a backcourt violation after losing control of the ball due to A&M's tenacity. Adams also had the game's first block. On the other hand, the Lady Bears man-to-man defense stymied the Aggies leading them to commit traveling violations.
"Those of you who follow basketball closely have to appreciate the defense," said Baylor head coach Kim Mulkey. "Both teams guard you. We had trouble running our offense and (A&M) had trouble with their scorers scoring against our defense."
Baylor's 6-8 sophomore center Brittney Griner won the tip and directed the ball to freshman starting point guard Odyssey Sims but the Lady Bears failed to make their first field goal attempt and A&M's pair of Sydneys, guards Colson and then Carter, made the first four points of the game. Sims was the alpha for Baylor, putting the Lady Bears on the scoreboard with free throws.
While Texas A&M outrebounded Baylor 25-20 in the first half, the Lady Bears got to the free throw line more often and shot 70 percent (7-10) while A&M was 66.7 percent from the line (4-6) and missed all but one of their three-point shot attempts.
A&M managed to build an eight-point lead at 10:18 but by the last few minutes of the half, Baylor climbed back to lead by five at 4:16 due to eight straight points from Sims. The teams went into the break tied at 29 with Sims leading all players with 15 points. Guard Tyra White had 10 for A&M and Adams added six rebounds. Baylor's overall leading scorer Griner only had three points in the first half but grabbed six rebounds.
The grind continued in the second half as both teams played relentless defense, in between a slew of missed jumpers and trips to the line. Griner continued to get double- and triple-teamed down low while Adams was stymied by the defense of Lady Bear sophomore Destiny Willams.
"Brittney (Griner) just draws so much pushing and shoving down there," said Mulkey. "I've got to go look and see. Her whole body makeup is such that she never gets frustrated and she never gets flustered down there. She sure takes a beating down there. I thought just a lot of what (A&M) wanted to stop, started with Griner. They did a good job."
A&M's Kelsey Assarian's aggressive play resulted in a technical foul at 9:00 that revved the already boisterous crowd into a deafening frenzy of boos and catcalls. Melissa Jones went to the line to take the technical free throws but in uncharacteristic fashion missed both. Jones came into the game shooting 82.8 percent from the line but was 2-5 Monday night. Griner spurred her team at that point scoring Baylor's next six points and then a layup from sophomore guard Kimetria Hayden tied the game up at 5:46, 49-49. The teams went back and forth for two minutes until Baylor gained a lead at 3:02 from a Griner layup never to trail again for the rest of the game. The Lady Bears commenced a 12-2 run to end the game.
Coming full circle, Sims was the last player to score for Baylor in the game, giving the Lady Bears a nine point margin of victory. She was the team's second leading scorer, finishing with 22 plus five assists. It was her 18th double-digit scoring performance of the season and sixth 20-plus point performance. Griner led the Lady Bears with 26 points, 11 rebounds and four assists, her eighth double-double of the season and 24th of her career.
Mulkey was pleased with her team's last minute efforts and attributed it to getting the ball to the right people
"[T]here's an old saying in sports that when the game is on the line you better make sure the right people touch the ball," she said. "I think we found out who needed to touch the ball."
Adams who had a career-high and school-record 40 points in Saturday's Kansas game was on the other end of the scoring spectrum. She finished with just nine points but pulled down nine rebounds. Historically, Adams, the Big 12 scoring leader, has not fared well in the scoring department vs. Baylor. Her scoring average against the Lady Bears is 9.75 points per game, well shy of her 23 points per game average overall.
"Baylor really contested her well, and that is how you stop someone," said Blair. "You just put a hand in their face and contest like you are in the NBA or something. I guess it was (Destiny) Williams there most of the time and she really did a great job on her."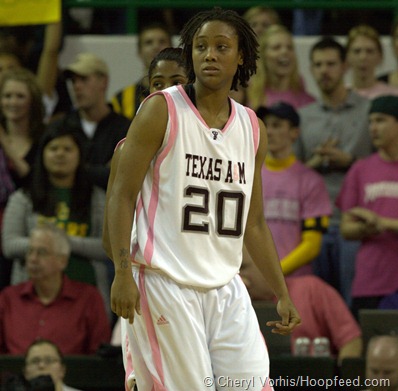 Texas A&M guard Tyra White led her team with 29 points.
Tyra White had a career-high 29 points for A&M and was the only player in double figures for her team, which was held to a season-low 31 percent shooting (22 of 71).
Baylor senior Melissa Jones credited her team's composure in supporting each other with positive feedback as the crucial element in the Lady Bears' ability to outlast A&M.
"There is just something real special about this team," she said. "When we were down so much of the time and going into halftime it seemed like nothing was going for us. But everyone was just pulling for each other. We were all trying to say things to each other here and there to get us going. There is something special with the team that we all have each other's backs no matter what."
Notes:
The win extends Baylor's season win streak to 21 games and is the longest current win streak NCAA Division I.
Baylor, 24-1, has posted its best start in program history, improving upon the 2007-08 season's 20-1 start.
Baylor is now 46-35 all-time vs. Texas A&M, including seven straight.
The Lady Bears have posted their best start in Big 12 play at 11-0. The 2007-08 squad opened league play at 8-0.
The 10,299 fans in attendance marked the fifth largest in program history.
Griner now ranks 20th on Baylor's all-time scoring list with 1,208, passing Jackie Valentine.
A&M grabbed 25 rebounds in the first half, the second-most it has had all season.