For Green Bay, the plan to stop Baylor's Brittney Griner begins with contesting Odyssey Sims. Baylor does not underestimate the Phoenix.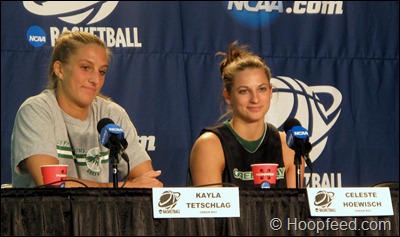 Green Bay's Kayla Tetschlag and Celeste Hoewisch at Saturday's press conference.
DALLAS – After taking a short break to head home and regroup after the first and second rounds of the NCAA tournament, Horizon League champion Green Bay arrived in Dallas Friday to take on Baylor, the region's No. 1 seed in the Sweet 16 of the NCAA Tournament.
Baylor's shot-blocking phenom Brittney Griner is a major concern for No. 5 seed Green Bay but head coach Matt Bollant is also focused on defending the Lady Bears starting point guard freshman Odyssey Sims.
"It starts with Sims and your ability to contest her," said Bollant Saturday afternoon. "They're so athletic when they get by off the dribble and Griner just scoops things up, so they get layups and they get offensive rebounds. It's one of the worst things you can give up against an athletic team is penetration, because it just leads to layups and it leads to offensive rebounding."
Putting pressure on Sims will help limit Griner's offensive production and Green Bay does not plan to change much of the strategy they have used all year to defeat teams and end up with a 34-1 record going into Sunday's game against Baylor.
"I think the system we do is hopefully the right system for it," said Bollant. "We talked a lot this week about being who you are. I know a lot of teams change throughout the year and do a lot of different things. But for us we want our players to be confident, so we haven't changed much this week. We thought be who you are and do the things that we do."
First Times and Common Opponents
Green Bay is in the Sweet 16 for the first time in the program's 38-year-old history. They beat Michigan State in the second round of the tournament, 65-56. Baylor played Michigan State early in the season on November 19, 2010 and defeated the Spartans 78-52 in Waco.
The two teams had one another common opponent during the regular season: Minnesota. Green Bay defeated the Gophers 79-75 on November 14, 2010 in Minneapolis in the Best Buy Classic. The matchup marked the 100th game for Bollant as head coach of the Phoenix.
The Gophers traveled to Waco on December and suffered a rout 103-56 rout. Griner had 22 points and six rebounds in that game. Kimetria Hayden added 17 points while Sims had 13 in her first college career start as a point guard.
Green Bay and Baylor have never played against each other. Baylor beat another first-time opponent in the second round of the tournament. The Lady Bears defeated West Virginia 82-68 last Tuesday night in Waco and advanced to the Sweet 16 for the third straight season and sixth time in the program's history.
Green Bay is 5-13 against Big 12 opponents. They have also never played Colorado, Kansas, Oklahoma or Oklahoma State.
Baylor is 1-1 all-time vs. Horizon League teams, 1-0 vs. Illinois-Chicago (December 8, 2001) and 0-1 vs. Butler (December 8, 1989).
Green Bay on Baylor's Radar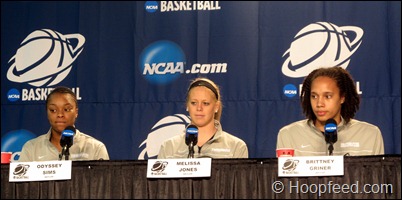 Baylor's Odyssey Sims, Melissa Jones and Brittney Griner at Saturday's press conference.
Even though Green Bay has earned unprecedented success during the postseason this year, the team's achievements are no surprise to Baylor head coach Kim Mulkey who does not feel the Phoenix came out of nowhere.
"They're not under the radar if you're in women's basketball," said Mulkey. "They've never been under the radar. I've been aware of their team for several years."
Mulkey pointed out Green Bay's poise due to their maturity and indicated that her squad would not underestimate the Phoenix.
"The thing that stands out to me is they're an older team," said Mulkey. "They're very confident. They take you off the dribble. They will shoot the three. They play all over the floor. And they've beaten some pretty good teams. And I don't care who you play. I don't care what league you're in. If you've only lost one basketball game, you're darn good. And it's going to be a battle, as it should be.
Baylor senior guard Melissa Jones and Sims echoed their coach's sentiments.
"Green Bay is a very talented basketball team," said Jones. "And anything that they might lack with size…they have hustle. And just their mentality of keep going in every possession is something you have to look at coming when we're going to play them. So we really have a handful with just trying to defend and trying to defend every aspect of the floor, because they can shoot and they can drive. They're very athletic and we have our hands full."
Sims agreed about Green Bay's level of talent.
"They're pretty good," said Sims. "They didn't get here for no reason. And just the biggest thing we have to do is just close out and move our feet, because they're a very athletic team."
Green Bay's balanced attack is led by Kayla Tetschlag's 13.9 points and 7.5 rebounds per game. Junior forward Julie Wojta follows with 13.8 points and 7.5 boards an outing, while senior guard Celeste Hoewisch scores an average of 13.4 points per game.
Sizeable Differences
Compared to Green Bay, Baylor is bigger stronger team. The tallest players in Green Bay's starting lineup are forwards Julie Wotja and Kayla Tetschlag, both at 6-0. Baylor on the other hand, starts 6-0 guard Jordan Madden, 6-1 forward Destiny Williams and the towering 6-8 Griner.
For Griner it will be business as usual.
"We're not going to change up anything, because that's when you mess up stuff," she said. "So just keep going out like I do every game. I hardly see taller posts, so it's kind of like normal now."
The Phoenix and the Lady Bears play in second game of the Dallas Region's Sweet 16 games at approximately 6:00 p.m. CDT on Sunday, March 27, 2011.
Probable Starters
Green Bay
#3, G, Celeste Hoewisch
#10, G, Hannah Quilling
#32, F, Julie Wojta
#42, F, Kayla Tetschlag
#43, G, Sarah Eichler
Baylor
#0, G, Odyssey Sims
#3, G, Jordan Madden
#5, G, Melissa Jones
#10, F, Destiny Williams
#42, C, Brittney Griner
| | | |
| --- | --- | --- |
| Baylor | Statistical Comparison | Green Bay |
| 79.7* | Points Per Game | 74.0 |
| 44.9* | Rebounds Per Game | 36.0 |
| 982-2073 | Field Goals Made-Attempted | 917-2035 |
| 47.4* | Field Goal Percentage | 45.1 |
| 178-461 | 3-Point FG Made-Attempted | 231-653 |
| 38.6* | 3-Point Percentage | 35.4 |
| 648-877 | Free Throws Made-Attempted | 525-672 |
| 73.9^ | Free Throw Percentage | 78.1 |
| 16.6* | Assists Per Game | 20.0 |
| 14.0 | Turnovers Per Game | 15.9 |
| 7.9 | Steals Per Game | 12.3 |
| 7.4* | Blocks Per Game | 1.9 |
* Big 12 statistics leader ^No. 2 in Big 12 statistics