Homecoming for many players on teams in the Dallas Regional. Friends and family on the back burner during the Sweet 16 for Odyssey Sims.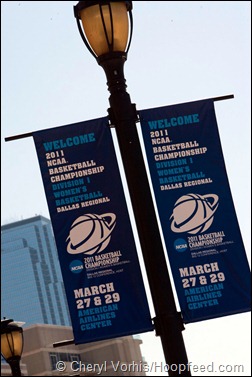 Dallas-Fort Worth is known for being a center of stellar high school girl's basketball talent. Many of the area's top prep players from the Metroplex do not venture far from home when choosing where to play in college. Texas A&M and Baylor, both playing in the Dallas Regional of the NCAA tournament have several players from the area while SEC team Georgia, also in the Sweet 16, has one player from the DFW.
Baylor forward and Fort Worth native Brooklyn Pope expects a large turnout from family and friends.
"A lot of people are coming out. I didn't have enough tickets to put a lot of people on the list, so they went out and bought them, which is pretty good," said Pope. "It'll be a good night. It keeps me going because they support me regardless of how bad you play or how good you play. They just let you know to keep playing and they keep cheering for you."
Lady Bears guard Kimetria Hayden was happy to have a visit from her dad at the team's hotel.
"I'm excited because my dad actually came to the hotel last night just to see me and talk to me a little bit."
Baylor's starting point guard Odyssey Sims is more business-like in her mindset about playing at home in the Dallas area.
"I'm here – we're here to play basketball," said Sims. "We're not here to see family, to talk to my friends, socialize, all that other stuff. That other stuff comes after the season when it's all said and done. Right now we have other stuff to deal with, and that's playing basketball….I've just got to stay focused."
Texas A&M
Other A&M players from Texas: Catherine Snow (Temple), Kelsey Bone (Houston), Adaora Elonu (Houston), Karla Gilbert (College Station), Sydney Colson (Houston).
Baylor
Kimetria "Nae-Nae" Hayden
Lincoln High School (Dallas)
Brooklyn Pope
Dunbar High School (Fort Worth)
Odyssey Sims
MacArthur High School (Irving)
Other Baylor players from Texas: Brittney Griner (Houston), Ashley Field (Burnet), Makenzie Robertson (McGregor), Shanay Washington (Austin). Griner played on the Dallas-based DFW Elite AAU squad alongside Sims. Robertson also played with DFW Elite.
Georgia
Sophomore Ebony Jones
Cedar Hill High School (Cedar Hill)