Green Bay challenges Baylor but Lady Bears prevail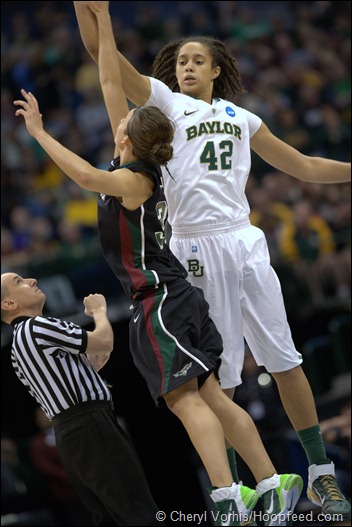 Brittney Griner had a career-high 40 points.
DALLAS – In their first real challenge of the NCAA tournament, the Baylor Lady Bears survived the tenacious defense and second half 54.5 percent three-point prowess of Green Bay for a 86-76 win. Led by a career-high 40-point performance from sophomore center Brittney Griner, Baylor managed to turn back the Phoenix and emerge victorious to reach the Elite Eight in the second game of the Dallas regional semifinals Sunday night at American Airlines Center in front of a crowd of 9,522.
While Green Bay (34-2) entered the contest after a fairytale season of 34 wins and only one loss, they failed to capitalize on the momentum that helped them reach the Sweet 16 for the first time in program history. However, Baylor head coach Kim Mulkey was quick to give credit to Green Bay for their efforts even as the game waned in the second and defeat was imminent for the Phoenix.
"That is a good basketball team," said Mulkey. "And the thing that's so impressive to me as a coach is they didn't quit. They made it a 10-point game. So they have to feel good about themselves in the sense that it was really on the verge of being a 20-point game and they never quit playing, and I respect that very much."
After the first half, Baylor led 43-34 after accumulating a 58.6 field goal percentage. Green Bay shot 33.3 percent in the first half and was 6 of 17 from three-point range.
While there were no lead changes during the game, Green Bay managed to narrow the deficit by three points three times in the second half. The last three-point margin between the teams occurred at 13:32 before Baylor surged to a double-digit lead which topped off at 18 before the coming back down to ten when the game ended.
Griner also had ten rebounds to add to her night's statistics. Freshman point guard Odyssey Sims, who battled a respiratory illness that evening, finished with 18 points.
Kayla Tetschlag led Green Bay with 27 points and 10 rebounds. Teammate Celeste Hoewisch added 20 points and six assists.
Baylor is set to meet Texas A&M Tuesday night at 8 p.m. to determine who will advance to the Final Four in Indianapolis.
Baylor advances to the NCAA Tournament's Elite 8 for the second straight season and third time in program history (2005, '10, '11).
Baylor is now 22-8 in NCAA Tournament games.
Baylor shot a season-high 58.9 percent from the floor, hitting 33-of-56 shots.
Griner's six blocks marks her 38th game with five or more blocks.
Sims recorded her 23rd double-digit scoring effort of the season and eighth 20-point game.