Texas A&M demolishes Georgia to reach the Elite Eight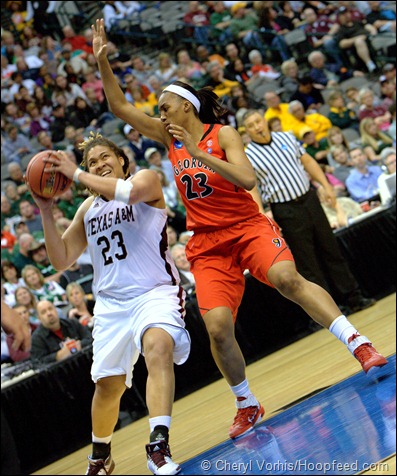 A&M's Danielle Adams had 23 points and a career-high 14 rebounds.
DALLAS – Texas A&M had no mercy for Georgia Sunday night in the first game of the Dallas Regional semifinals of this year's women's NCAA Division I basketball tournament. Buoyed by a raucous crowd of Big 12 fans from all over Texas, some wearing Aggies maroon and white while others sported colors of Baylor who played later that night, TAMU flattened the Lady Bulldogs 79-38 to reach the Elite Eight. It was the most lopsided victory for the Aggies in tournament play.
Georgia (23-11) entered the Sweet 16 for the nineteenth time in program history and has ten Elite Eights under their belt. But, it was Texas A&M who came out on top on several fronts in the first-ever meeting between the two teams. The win was the 30th victory this season for the Aggies, a program record. The team enters the Elite Eight for only the second time.
From their tenacious signature defense starting with the backcourt tandem of Sydney Colson and Sydney Carter leading to a prolific offense, the Aggies pounced on Georgia from the tip, demolishing any opportunity for the Lady Bulldogs to have a smidgen of hope for advancing in the tournament.
"Pretty much no shot went up that wasn't contested," said Georgia senior Porsha Phillips about A&M's defense. "They did a good job, really good job of even when you get past one person there was somebody else there always for help….I think they did a really good job of pressuring us and disrupting us on the defensive end and not letting us knock down or be able to get the shots we're typically able to get."
Texas A&M (30-5) jumped out to a 13-0 lead and then held Georgia below ten points for most of the half. In the meantime, the Aggies amassed a 30-point lead. Georgia's anemic offense gained a bit of momentum in the waning minutes of the first half but it was far from enough to make a dent and the demoralization was evident in their overall demeanor, from facial expressions to body language. At the break, TAMU led 48-17 and the Georgia coaches walked off the floor with long faces under the gaze of 9,522 fans in American Airlines Center. The Aggies held the SEC team to just 20.7 percent shooting while they built their huge margin with a 44.4 percent field goal percentage and 57 percent (8-14) from three-point range.
"We had no idea we could shoot the ball that well from the three to start the game," said A&M coach Gary Blair about his team's three-point shooting. But he also credited his squad's defense.
"I'd like to give so much credit to our defense, because normally we're forcing teams 20 turnovers a ballgame," he said. "But I think our kids learn you can make stops. You don't have to have charges. You don't have to have blocked shots. You don't have to have steals. You can just play that Aggie defense, and I think that was the key tonight."
Senior Danielle Adams amassed 14 points before the break, Sydney Colson had nine and three Texas A&M players pulled down four rebounds.
During the second half, the Aggies did not let up the pressure and Georgia's weak efforts to make any headway were a lost cause. Even in the last few minutes of the contest, Texas A&M's players, including the bench, hustled as if they were behind, not like they had a sizeable lead in a game with a predictable outcome after just the first five minutes of play.
"It just wasn't pretty. And if you're Georgia, it wasn't any fun," said Georgia head coach Andy Landers about his team's loss. "But you have to give Texas A&M just a lot of credit. They did what they do. They come out, they get in your face defensively. And they did that very well tonight, disrupted very well, created early turnovers, I think four in the first four minutes. Same kind of pressure probably mentally affected a couple of layups in the first four minutes. And that's that piece. Defensively they were excellent."
Jasmine James led the Lady Bulldogs wit 10 points.
For the Aggies, Adams had 23 points and a career-high 14 rebounds. She has scored in double figures in all five of her career NCAA Tournament games. Tyra White followed up with 14 points for Texas A&M while Sydney Colson added in 11.
Texas A&M meets Big 12 foe Baylor Tuesday night at 8 p.m. CDT in a battle for a Final Four berth. It will mark the fourth time the two teams have met this season.
A&M has won its three tournament games by 40 points (McNeese State), 22 points (Rutgers) and 41 points (Georgia). A&M's defense, orchestrated by assistant coach Vic Schaefer, is the only team in the NCAA field to hold all three of its opponents to less than 50 points.
The Aggies held Georgia to a first-half season low 20 points and to its second-lowest total in an NCAA Tournament game.
A&M held the Lady Bulldogs to 15-of-60 from the floor with a .250 shooting percentage, their lowest total of the season. It was also the second-worst shooting percentage in NCAA regional history.
Adams also now has 795 points this season, putting her just ahead of Baylor's Brittney Griner (792) as they chase the Big 12 single-season scoring record, currently held by Oklahoma State guard Andrea Riley(909 points in 2010).
White's 14 points and Carter's six assists were both new NCAA personal highs. Adrienne Pratcher matched her career high in points (nine).