Versatility and offensive firepower propel Los Angeles over Phoenix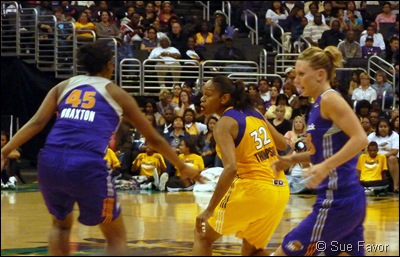 LOS ANGELES – It was an offensive shootout night Friday as the visiting Phoenix Mercury took on the Los Angeles Sparks. The home team prevailed 98-84 in a fast-paced game that saw four players from each team in double figures, and stat columns that pushed the record books.
Both teams came out of the blocks blazing trails to the basket, putting the Sparks ahead 31-30 at the end of the first quarter. The Sparks' 54 points at the half was the second-highest halftime total in franchise history. Both teams ended the game well over 40 percent for three-point shots.
The lead that Los Angeles built in the second quarter stayed about the same for the entire game, as Phoenix was never able to make a run and erase the deficit.
Sparks Coach Jennifer Gillom said the game was "a good overall team effort" for the Sparks, and added that the quick pace was no accident.
"We practiced this week pushing the ball forward," she said. "It's good to see our team pushing the ball on the floor."
The Sparks showcased their depth, as players took turns taking over.
The first quarter belonged to forward DeLisha Milton-Jones, who put up 14 points. While she remained scoreless in the second period, Kristi Toliver came off the bench and reeled off 11 points – nine of which were treys. In the third period Candace Parker and Tina Thompson took over, and they continued their attack in the fourth, with nine and six points, respectively.
Parker finished with 22 points, eight rebounds and five assists. Thompson put up 21 and pulled down nine boards. Milton-Jones racked up 18 points and Toliver ended with 17.
Mercury forward Penny Taylor was the high-scorer for her team, with 18. Point guard Temeka Johnson added 16, Candace Dupree 12 and DeWanna Bonner 10. All-Star Diana Taurasi was held to nine points and was assessed a technical foul in the fourth quarter.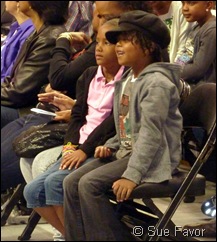 Tina Thompson's son Dyllan watches his mom play.
Thompson said the Sparks have more offensive firepower this year than last, and that is partially due to increased versatility.
"When one player gets hot we will go to that player until she cools down," Thompson said. "All of our post players can face up to the basket and [we] compliment each other. A few times during the game we were playing each other's positions."
Toliver said the Sparks won because they played well together and played smart.
"We were all making that extra pass, because we have so many shooters," she said.
Thompson said she is excited because last night was the first time the Sparks have "played like we practice." Toliver agreed.
"Our practices are really intense," Toliver said. "Tonight's game showed that our chemistry has really started to build already."
The Mercury fall to 0-2 on the season and the Sparks are now 2-1.