Dishin & Swishin: August 11, 2011 Podcast #3, Part 1 – Ticha Penichiero, LA Sparks
[display_podcast]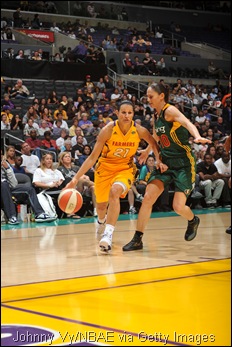 It has been a strange 14th season in the WNBA for Ticha Penichiero, full of highs and lows.
The league's all-time assists leader, Ticha was recognized as as one of the top 15 players in the history of the WNBA.  She has put up some of the best offensive games she's had in recent years, including the 16-point, seven assists game vs. Minnesota and 23 points, seven assists and seven rebounds vs. Tulsa in the last week.
However, she has also dealt with coming off the bench for the first time in her career, a decrease in minutes and a disappointing season for her Los Angeles Sparks, who currently sit at 8-13, fifth place in the Western conference.
Anyone who knows about Ticha though, knows she is a player who is all about the W's, and is willing to play the hand dealt to her, without complaint.  She is the consummate teammate and professional, always looking to setup her fellow Sparks first, and put her own offense second.
I talked to Ticha about a wide range of subjects.  We covered everything from her recent scoring bursts, the Sparks' status and the health of Candace Parker, the days and demise of the Sacramento Monarchs, being named one of the Top 15 and what the future holds.  A very candid, open conversation, with one of the best point guards to ever wear a WNBA uniform.  I hope you enjoy it!
Dishin & Swishin: The World of Women's Hoops is an Internet Radio Show hosted by David Siegel, devoted to the many facets of women's basketball.  From players to coaches to administrators and journalists, David strives to bring you an entertaining listen that also leaves you with something you didn't know before. Enjoy!
Subscribe to the Dishin & Swishin Podcast!