Dishin & Swishin: August 11, 2011 Podcast #3, Part 2 – A Tribute to Tara VanDerveer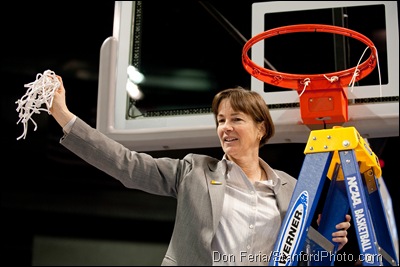 [display_podcast]
For a long time, I've been saying that the Naismith Hall of Fame has been way too slow in acknowledging the great players and coaches of the women's game.  That said, they are slowly coming around.  With the addition of Cynthia Cooper last year, they inducted their first WNBA player, and this year they add two additional names that have been long deserving of induction: Teresa Edwards and Tara VanDerveer.
The legendary career of Teresa Edwards, from the college and ABL success, to of course the unparalleled achievements in USA Basketball are well known, and I congratulate her.  I don't mean to slight Ms. Edwards, but the purpose of this podcast was to discuss the other inductee, Stanford Coach Tara VanDerveer.
In the women's college game, there are so very few coaches with the programs, the resume, and the success of Coach Tara.   One of only five women's coaches to win 800 games, she has won two national championships, a ridiculous amount of conference championships, NCAA tournament appearances galore, produced many All-Americans, Naismith winners, Wade Trophy winners, WNBA first round draft choices, and USA basketball participants.   Can you imagine one of the coaches today taking a full season off to help re-invigorate the USA senior national team?  But that's what she did.
As I can't make it to Springfield this weekend, I thought it would be a good idea to pay tribute on Dishin & Swishin to the woman that deserved this honor several years ago.  With the help of Aaron Juarez, Stanford SID extraordinaire, we put together one of the infamous Dishin & Swishin roundtables.  When Aaron and I put out the information on what we were doing, the response was amazing, as former players lined up to pay homage to a coach/mentor/friend that means so much to them all.
So, in this podcast, you will hear from some of the legends of the Stanford program, national champions and All-Americans.  Coaches, administrators, and WNBA stars.  The love they have for their former Coach, is a beautiful thing to hear.  They are: Jennifer Azzi, Angela Taylor, Vanessa Nygaard, Kate Paye, Melanie Murphy, Jayne Appel, Jeanette Pohlen, and Candice Wiggins.  Last minute conflicts prevented Kayla Pedersen and Ros Gold-Onwude from being able to join us, but I wanted to acknowledge their desire to be involved too.
I hope you enjoy what was a very special podcast to record, and one of the most enjoyable roundtables in Dishin & Swishin's history.
Dishin & Swishin: The World of Women's Hoops is an Internet Radio Show hosted by David Siegel, devoted to the many facets of women's basketball.  From players to coaches to administrators and journalists, David strives to bring you an entertaining listen that also leaves you with something you didn't know before. Enjoy!
Subscribe to the Dishin & Swishin Podcast!