Dishin & Swishin: August 3, 2011 – Angel McCoughtry, Marie Ferdinand-Harris & Katie Douglas
[display_podcast]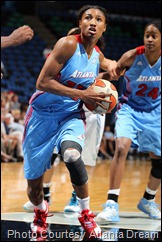 As we enter the second half of the WNBA season, three teams with compelling stories are the Atlanta Dream, Phoenix Mercury and Indiana Fever. These three teams are the focus of this week's podcast.
The Atlanta Dream started the season poorly, with star forward Angel McCoughtry injured, and then important post player Sancho Lyttle leaving to represent Spain in Eurobasket. Before they knew it, June was over, the team had a 3-7 record and they were looking at an uphill fight to get back in the playoff picture. Fast forward to today – the Dream sit only ½ game out of the playoffs. They are led by Eastern Conference Player of the Week McCoughtry who, since July 1st, is averaging a ridiculous 23.3 points per game. I talked to Angel, on the team's struggles and improvement, her incredible play in the All-Star game over and around Liz Cambage, having her number retired at Louisville and more.
In the Western Conference, a four-way playoff seeding race is developing between Minnesota, San Antonio, Phoenix and Seattle. The Mercury have been a strange team this season, prone to long winning and losing streaks, despite the addition of veterans for the bench in Nakia Sanford and Marie Ferdinand-Harris. A former All-Star, Ferdinand-Harris is appreciating the chance she has this year to make a deep playoff run, something she has been missing in her career. A natural fit for Phoenix's fast break system, I talked to Marie about the Mercury, what it is like playing with distributors like Diana Taurasi and Penny Taylor and what Phoenix needs to do to make a deep playoff run.
When I hosted a pre-season roundtable, Debbie Antonelli convinced me that the Indiana Fever this year had the makeup to go at least to the WNBA Finals, if not win it all. Katie Douglas has long been unappreciated in my opinion, an underrated force with the cool demeanor to nail the big shot. Well, no more, as she has been again an All-Star starter, and was named a finalist to the Top 15 WNBA Players of All-Time list. She is having perhaps her best season, even though she is scoring less. Her percentages are up and turnovers down, and she is handling the ball more than in prior years due to the injury to point guard Briann January. I had a great conversation with Katie, covering everything from this year's Fever's chances, her days at Purdue forming an amazing backcourt with Ukari Figgs, the developing Fever-Sun rivalry, her husband, playing overseas and year-round, and the Greek national team. It was a fun interview, with a great player.
Dishin & Swishin: The World of Women's Hoops is an Internet Radio Show hosted by David Siegel, devoted to the many facets of women's basketball.  From players to coaches to administrators and journalists, David strives to bring you an entertaining listen that also leaves you with something you didn't know before. Enjoy!
Subscribe to the Dishin & Swishin Podcast!