Tennessee coaching legend Pat Summitt diagnosed with early onset dementia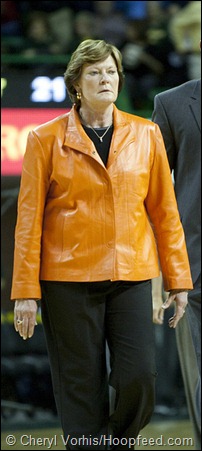 Geno Auriemma's Statement || Tennessee Administrators and Tyler Summitt || Around the Web
Summitt's Statement
Dear All –
Throughout my career, I have always made it a point that my life and my basketball program were an open book.
With that in mind, I have something I'd like to share with my Tennessee families — the university, boosters and fans of Lady Vol basketball.
Once last season concluded, I addressed some ongoing concerns regarding my health. After consulting with my local physicians, I decided to visit the Mayo Clinic in Rochester, Minn.
Earlier this summer, the doctors at the Mayo Clinic diagnosed me with early onset dementia ("Alzheimer's Type") at the age of 59.
I plan to continue to be your coach. Obviously, I realize I may have some limitations with this condition since there will be some good days and some bad days.
For that reason, I will be relying on my outstanding coaching staff like never before. We have always collaborated on every facet of Lady Vol basketball; and now you will see Holly Warlick, Dean Lockwood and Mickie DeMoss taking on more responsibility as their duties will change significantly.
I love being your coach and the privilege to go to work every day with our outstanding Lady Vol basketball student-athletes. I appreciate the complete support of UT Chancellor Dr. Jimmy Cheek and UT Athletics Director Joan Cronan to continue coaching at the University of Tennessee as long as the good Lord is willing.
I've been honest and shared my health concerns with you, and now we'll move forward to the business at hand… coaching a great group of Lady Vols. For the time being, I hope you will respect my privacy regarding this matter.
Thank you.
Go Lady Vols!
---
Statements from Tennessee Administrators and Tyler Summitt
Chancellor Jimmy Cheek
It takes amazing courage for Pat to come forward and discuss her health with her players, our fans and the entire country, but that's who she is. Pat Summitt stands for courage and integrity. We will stand behind her and support her in every way possible. We look forward to her continued leadership as the Lady Vols head coach and I know that even through this adversity she will be an inspiration to all of us.
Interim Vice Chancellor/Director of Athletics Joan Cronan
Pat Summitt is our head coach and she will continue to be. She is an icon not only for women's basketball but for all of women's athletics. For Pat to stand-up and share her health news is just a continuing example of her courage.

Life is an unknown and none of us has a crystal ball. But I do have a record of knowing what Pat Summitt stands for; excellence, strength, honesty and courage.
Tyler Summitt
Pat Summitt is not only my mom, but also an incredible role model and mentor for me. It seems like she teaches me something new every day, and she is currently giving me one of the best life lessons of all: to have the courage to be open, honest, and face the truth.

This will be a new chapter for my mom and me, and we will continue to work as a team like we always have done. We both appreciate the continued support of the Lady Vol family. Our faith is in the Lord and we trust that God has a plan for us. Looking forward, nobody is as ready for the 2011-12 basketball season to start as much as the Summitt family. God Bless.
---
Geno Auriemma on Pat Summitt
I was shocked and saddened to hear about the news regarding Pat Summitt's diagnosis. You don't necessarily associate dementia with people our age so this announcement really put things in perspective. Pat has great support from her family, friends and staff and I know they will help her immensely. There is no doubt in my mind that Pat will take on this challenge as she has all others during her Hall of Fame career – head on. I wish her all the best.
---
1:17 p.m. CT:According to a report by GoVolsXtra.com, legendary Tennessee coach Pat Summitt was diagnosed with early-onset dementia this past May.
The coach received the news after tests at the Mayo Clinic in Rochester, Minnesota. She has no plans to step down from her position. Tennessee is set to make an announcement about her status today.
Summitt, 59, is the winningest coach in college basketball history with 1,071 career victories and eight national championships. She is entering her 38th season as a head coach, all of which have been at the helm of the Lady Vols basketball program.
In an interview with GoVolsXtra.com she said of her condition: "There's not going to be any pity party and I'll make sure of that."
Around the Web