Battle in the Metroplex as SMU hosts TCU in DFW rivalry
TCU at SMU, November 17, 2011, 7 p.m. CT
Radio: KAAM 770 AM Scott Garner (Play-by-Play)
Dallas, Texas (Moody Coliseum)
Live Video/Stats: http://smumustangs.cstv.com/allaccess
Live Audio/Stats: http://gofrogs.cstv.com/allaccess
TCU Horned Frogs (1-1, 0-0 Mountain West)
Head Coach: Jeff Mittie
Career Record: 412-186 (1-1 season)
School Record: 261-127 (13th Season)
SMU (2-0, 0-0 Conference USA)
Head Coach: Rhonda Rompola
Career Record: 368-236 (2-0 season)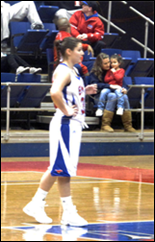 DALLAS – Dallas-Forth Worth metroplex rivals, Southern Methodist and Texas Christian, play tonight in their annual match-up. Last year TCU won the game on their home court in Fort Worth in a 87-73 double overtime decision. Tonight the series comes to Moody Coliseum in Dallas.
Overall, SMU leads the series 38-15. The yearly contest against SMU is TCU's longest continuous series against any opponent.
After starting the season 2-0 with victories over SWAC team Alcorn State and Sun Belt Conference member Arkansas-Little Rock, SMU looks to maintain its winning ways against the Horned Frogs who are 1-1.
Even though SMU beat Alcorn State 76-54 in their season opener is Dallas, they were stymied by the defense of the Lady Braves.
"Alcorn State does an excellent job of pressuring," said SMU head coach Rompola. "Defensively, they get after it quit a bit so I think that was good for us to experience that the first game. At times I thought we were a little shaky against their pressure."
Alcorn State's defensive pressure led SMU to turn the ball over 30 times. Luckily for the Mustangs, the Lady Braves failed to capitalize on the majority of those turnovers, only racking up 21 points from them.
Both teams came out of the gate with first-game jitters and made a lot of errors that appeared to stem from nervousness.
"Our decisions at the beginning weren't very good," said Rompola, "but as we kind of got in the flow of things we kind of got a little bit better and as we put in younger players in there they made some young mistakes that you expect freshman to do."
Senior guard Samantha Mahnesmith took over the game early for SMU, scoring the team's first eight points including two three-pointers.
"Sam was the spark at the beginning and got us going," said Rompola. Mahnesmith finished with a team-high 13 points.
Two days later SMU traveled to Arkansas and won on the road 69-60. Akil Simpson scored 13 points with six rebounds, and Kristin Hernandez scored 11 points in just her second game since transferring to SMU from Oklahoma State two years ago. Christine Elliott finished with eight points and grabbed a team-high nine rebounds.
Simpson's performance was a big turnaround from the first game where she only scored five points and pulled down four rebounds.
"Akil is capable of playing a lot better," said Rompola after the season opener. "She has been practicing well and been consistent in practice. Her one downfall that limited her last year was that she got into foul trouble and she sometimes she gets a little over aggressive and sometimes her emotions get the best of her and she ends up fouling and not being smart on a play. I see Akil playing a whole lot better."
TCU in the House
TCU enters the matchup against SMU 1-1. They beat UTSA 65-30 at home after dropping their season opener 83-60 at Georgia. Senior Antoinette Thompson leads the team with 13.5 points per game, and freshman Natalie Ventress is scoring 12.5 points per game.
Next at Moody
SMU will travel to North Texas in nearby Denton on November 22 before hosting its annual Hoops for the Cure Tournament November 25 through 26.