Dishin & Swishin November 10, 2011 Podcast: Familiar faces, different places – Kevin McGuff, Joanne Boyle & Joy Cheek take on new challenges
[display_podcast]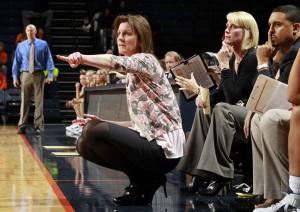 Finally, it is time for the start of the regular season of NCAA women's basketball.  Of course, behind the scenes, a lot has been going on since the end of last year. Graduation took players like Maya Moore, Courtney Vandersloot and Danielle Adams from the college game, and a new crop of freshmen have arrived, anxious to start building their own resumes. On the subject of resumes, we are also going to see some familiar faces on different sidelines this year, as coaches change schools, or begin their coaching careers.
Kevin McGuff built Xavier from a middle of the pack mid-major to a national title contender. Last year's squad put two players into the first round of the WNBA draft, and his teams at Xavier won 74 percent of their games.
McGuff's last two teams went undefeated in conference play reaching as far as the Elite Eight and Sweet Sixteen in the NCAA tournament. It was a logical time for Coach McGuff to move on to a bigger forum, and he begins his career in one of the biggest. The University of Washington, per their website, is the number four public university in the United States, but the women's basketball program has suffered through some hard times of late. McGuff will try to restore the Huskies to prominence, challenge Stanford in the Pac-12, and get the team back to the level it was in 2001, when it reached the Elite Eight. Coach McGuff and I discussed the move to a BCS (Bowl Championship Series) school, moving cross-country and how he intends to re-build and change the overall mentality at Washington.
While McGuff moved from east to west, new Virginia head coach Joanne Boyle has done the exact opposite, leaving California and the Pac-12 for the Cavaliers and the Atlantic Coast Conference. Boyle is no stranger to the East coast though, having been an assistant coach at Duke, and a head coach at Richmond.
Boyle hopes these east and west coast ties will help restore the Virginia women's basketball program. Legendary for many years under Coach Debbie Ryan, and with a history that includes players like Dawn Staley, Boyle is confident she can make Virginia relevant to the ACC once again.
Coach Boyle openly discussed her final, somewhat disappointing season at Cal, what she has learned and how excited she is to be back in the ACC. It was a great chat, about her team, the school and the desire to succeed.
How does it feel to be a player on the court, and then change responsibilities and start coaching at the same school where you were a player? I talked to new Duke assistant coach Joy Cheek about just that. Cheek has put a cap on her WNBA playing career, and is beginning to build her coaching resume as an assistant for the Blue Devils. How do you change from playing with the current players to coaching them? How about learning the NCAA rule book?
Cheek was on the road as a player at Duke but how different is it to travel as a coach now? I was fascinated talking to Cheek about the nuances associated with the new role she is taking on, and I am sure you will be too.
I hope you enjoy the podcast, and it helps get you fired up for the tip-off of the NCAA season! Get out and support your local teams, spread the word, and most of all, enjoy women's basketball at all college levels. It is a great game!