Five questions with Kara: Lawson raises over $17K in honor of Summitt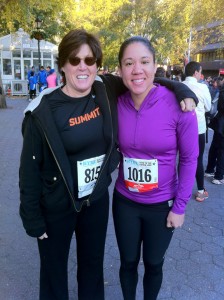 This past week WNBA player and ESPN analyst Kara Lawson paid homage to her college coach, Tennessee's Pat Summitt, by helping raise money for Alzheimer's research.
Since Summitt announced in August that she received a diagnosis of the disease in the form of early onset dementia, the outpouring of support from the basketball community has been tremendous. Lawson, who is still close to her coach, wanted to show her appreciation to the legend. She participated in New York City Marathon activities along with her husband Damien Barling, a the culmination of several weeks of fundraising activity spurred by family, friends and the basketball fans from all over the country.
Lawson ran the 5K race on Saturday while Barling took part in the marathon on Sunday. Lawson took some time out after the races to answer a few questions.
What sort of training challenges did you face in training for the run and how was it different from getting prepared for basketball?
Running miles and running on the court are very different things. Your body reacts different. And with running, there's no free throws, no stoppages, and no timeouts. The challenge was trying to get my body to understand why I wasn't stopping as frequently as I normally do.
Were you pleased with the support you received from fellow basketball professionals, coaches and fans?
Absolutely. Overwhelmed in some cases. The donation scroll was filled with names from coaches around the WNBA and the NCAA. It was amazing to see the support.
What was it like to be in the NYC Marathon atmosphere and how did your husband do?
It was incredible. There were over two million spectators. Damien was amazing. I'm very proud of what he accomplished. He was hoping to run a little faster but he found out "The Wall" that marathoners speak of is real.
How much did you raise?
As I write this we're at $17,280. If you look at the last name on the donation scroll you'll see it's Dan Hughes from the San Antonio Silver Stars.
What are other ways will you continue to support research for Alzheimer's?
Damien and I are working on that right now. The thing we kept stressing when we contacted the Alzheimer's Association was, we didn't want this to be a one-time thing. We are fully committed to devoting a great deal of time and energy to bring awareness and funding to Alzheimer's. It's such a grossly underfunded organization we'll continue to use what little influence we may have to convince people how much the Alzheimer's Association needs our help.