Huskies dominate Holy Cross in Doty's return, Mosqueda-Lewis' debut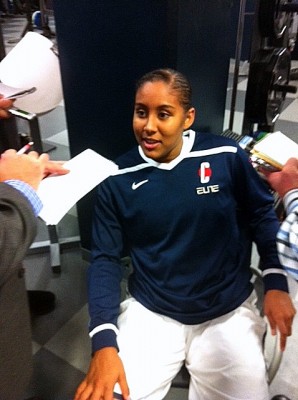 Bill Gibbons and Holy Cross have played Geno Auriemma and the University of Connecticut in an ongoing series every year since 1986. On December 4, 1986, the first meeting in the series, Holy Cross defeated UConn by a score of 65-49. Suffice to say, yesterday's game did not end the same way.
Going into Sunday's season opener for the Huskies at Gampel Pavilion, Auriemma's Husky teams had won eighteen straight games, and they continued their series dominance with a 77-37 victory over the Crusaders in front of a crowd of 6,548.
As it will be for most games this season, the guards led the scoring for UConn, with Bria Hartley scoring 17 points, and Tiffany Hayes adding 16. The fast break was fueled by their size advantage, as Connecticut controlled the boards, outrebounding Holy Cross by a 49-32 margin. Stefanie Dolson continues to emerge as a go-to player inside, shooting a perfect six for six from the field for 12 points. Combined with freshman Kiah Stokes' four points and four rebounds, the Connecticut posts dominated.
The story of the game, however, was a return and a debut. Caroline Doty returned from knee injuries galore to a rousing standing ovation during pre-game introductions. She rewarded the crowd with a couple of three-pointers in the first half as well as a couple of assists while committing no turnovers, exactly the kind of performance Auriemma is hoping to get from the veteran guard.
"She was excited about being out there," said Auriemma. "That's good, because we have a lot of players in the back court that are more scorers than they are playmakers. We need certain ones to be playmakers, so it's good for us."
The game also marked the debut of heralded freshman Kaleena Mosqueda-Lewis. Despite missing all seven three point attempts, she came off the bench to score seven points and also contributed seven rebounds. Wearing Maya Moore's number, and sporting a Diana Taurasi-esque bun, "KML" will be counted on to be an all-around presence on the court.
"It was exciting, it's been a long time me waiting for this first game in my freshman year as a Uconn Husky, and I'm proud of my team," said Mosqueda-Lewis. "We looked pretty good out there, we had a couple of minutes here and there where it wasn't as tight as it should be, but I'm proud of everybody. I'm not happy I didn't shoot well, but it's alright my team got the win."
Holy Cross was led by Alex Smith, Amy Lepley and Christine Ganser with eight points each, as the Crusaders had balanced scoring, but were clearly facing a team with more size and more speed. Coach Gibbons never stopped teaching his young team though (only one senior), while constantly encouraging and pushing them to a better performance. With ten minutes to go in the game, he even turned to his bench clapping, encouraging them to stay in the game, and they responded, standing and cheering every basket made by a teammate.
"I really thought that we competed," Gibbons said post-game, "I thought we missed shots in the first half, we executed, we got shots, we just missed them. We played a defense we hadn't played all preseason and I think the kids did a great job."
Gibbons talked about the series with UConn and whether it will continue after this game.
"People say I'm nuts playing this game. I said to our team I thought we competed and I think that we are a better basketball team at 4:05 p.m. than we were at 2:05 p.m. and they all nodded their heads."
The series is up for discussion though, and the two schools will review whether it will continue.
It was not the prettiest of games, but the first game of the year rarely is a work of art. However, with the game against Stanford only a week away, Auriemma's Huskies certainly seemed happy to play a game that mattered and get the season under way.
Next up for UConn will be the conclusion of a home and home series with Pacific at Gampel Pavilion on Tuesday, November 15 at 7:30 pm ET, before Stanford comes into the XL Center for their game on November 21. Holy Cross will have their home opener versus Quinnipiac on Wednesday, November 16th at 7:00 p.m.