Opening day overview: Top 25 matchups, schedule and WNIT matchups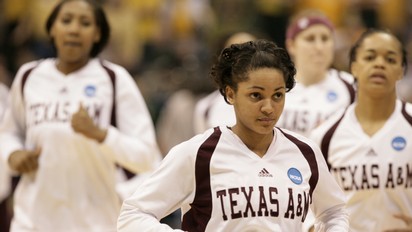 Today is the beginning of the regular season of 2011-12 NCAA Division I women's basketball. Overall, nearly 270 teams will play in over 130 games beginning with a matchup between Farleigh Dickinson and Boston College. Sylvia Crawley's BC Eagles host the FDU Knights in Chestnut Hill at 11:00 a.m. ET. Eleven minutes later NC A&T takes on Iona at the Iona College Tip-Off Tournament. Independent and Division II teams will also be in the mix competing against DI teams.
Stanford is the only top ten team playing another ranked team on opening day. The No. 5 Cardinal begin their season on the road when they face No. 24 Texas in Austin at 8 p.m. ET on the Longhorn Network, the only nationally televised women's game today. Several games will have local television coverage and most have local radio coverage.
The number one team in the nation, Baylor, is a host of the preseason WNIT and opens the season on their home floor against Howard University at 7:30 p.m. ET.
The last five games of the night are on the West coast including the predicted winner of the Big Sky conference, Portland State, hosting  UC Irvine at 10 p.m.
Top Team Play
Do you want to know the who, when and where of the top teams on opening day? The first nine teams in the AP and USA Today/ESPN preseason polls are identical. Georgetown is No. 10 in the AP poll while Maryland is at that spot in the USA Today/ESPN coaches' poll.
No. 6 Texas A&M begins play on Saturday when the Aggies host Lamar. Top 25 teams North Carolina and St. John's also open their seasons on Saturday. No. 19 UNC hosts Gardner-Webb while No. 25 St. John's plays at home against St. Bonaventure. No. 3 Tennessee, No. 4 Connecticut, No. 9 Louisville, No. 15 Oklahoma, No. 16 Rutgers and No. 17 Purdue play on Saturday while No. 21 LSU travels to Wichita State on Monday.
WNIT
The women's preseason NIT also kicks off today with Baylor and Notre Dame headlining the 16-team field. Five of the teams in the tournament are picked to win their conference title in this year's preseason polls: Baylor (Big 12), Chattanooga (Southern), McNeese (Southland), Notre Dame (Big East), and Tennessee Tech (Ohio Valley).
The Preseason WNIT features a three-game guarantee format. First round games are today, Friday, November. Second-round games are scheduled for November 13; semifinals will be November 17; and the championship is set for Sunday, November 20. Teams that lose in the first two rounds will play consolation games on the second weekend, November 18-19. All games are hosted by participating schools, and sites are announced by the end of the preceding round.
In last year's preseason WNIT, Purdue played DePaul and had a 67-58 victory in the final.
First-round 2011 Preseason WNIT games
(2010-11 team records in parentheses)
Friday, Nov. 11, 2011
McNeese State (26-7) at UCLA (28-5), 5 p.m. ET
Long Island (19-11) at Drexel (19-13), 7 p.m. ET
UAB (20-15) at Chattanooga (17-14), 7 p.m. ET
Tennessee Tech (23-8) at ETSU (19-12), 7 p.m. ET
Akron (14-16) at Notre Dame (31-8), 7 p.m. ET
Howard (16-18) at Baylor (34-3), 7:30 p.m. ET
Detroit (13-18) at Indiana State (16-16), 8 p.m. ET
Manhattan (24-10) at Hartford (17-16), 8 p.m. ET
AP Top 10
1. Baylor
2. Notre Dame
3. Tennessee
4. Connecticut
5. Stanford
6. Texas A&M
7. Miami (FL)
8. Duke
9. Louisville
10. Georgetown
USA Today/ESPN Top 10
1. Baylor
2. Notre Dame
3. Tennessee
4. Connecticut
5. Stanford
6. Texas A&M
7. Miami (FL)
8. Duke
9. Louisville
10. Maryland