A Dishin & Swishin Flashback: On the third anniversary of her passing, a tribute to Kay Yow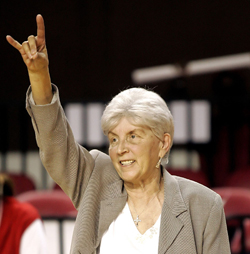 [display_podcast]
Each year I have tried to run a special radio show during what was the Pink Zone (now Play4Kay) celebrating the life of the late great Kay Yow commemorating her efforts in educating others  about breast cancer.
Today, the third anniversary of her tragic passing, I have dusted off a show from February 16, 2011. It was one of the most heartfelt, heartwarming and enlightening roundtable discussions we ever had on Dishin & Swishin.
We gathered together over the telephone lines legendary coach Marsha Sharp, friend and rival head coach and former Executive Director of the Kay Yow Cancer Fund, and three former players under Coach Yow at North Carolina State: currrent broadcaster Debbie Antonelli (1983-1986), Krista Kilburn-Steveskey (1987-1990) doing wonderful things as head coach at Hofstra, and Kristen Gillespie (1996-1999) the head coach at Benedictine University.
For more information nand to contribute to the Kay Yow Cancer Fund, you can go here:Â kayyow.com.
I hope you enjoy the podcast and remember the legacy of the great Kay Yow.