Around the WNBA: 2012 schedule released, Olympics to interrupt season
After a premature posting yesterday on its website, the WNBA officially released its 2012 schedule Thursday. A matchup of the Los Angeles Sparks visiting the Seattle Storm kicks off the schedule on May 18 at 10 p.m. EST. The defending WNBA champion Minnesota Lynx open their season at the Target Center on May 20 vs. Phoenix on ABC-TV.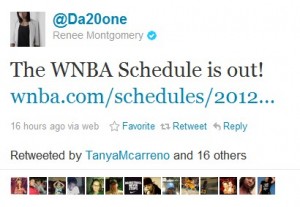 The schedule includes a break for the London Summer Olympics after July 13 with games resuming on August 16. Several international players will not be available for their teams until after the summer games, leaving many squads with makeshift rosters until after the Olympics close. At least 20 players will represent their countries in London with the majority coming from Australia, Brazil, Russia and the United States.
The regular season ends September 23. The playoffs are scheduled to begin on Thursday, September 27.
Fans got a sneak peek of the schedule yesterday when it was inadvertently published before the official release. After the link to the schedule showed up on Twitter via fans and players plus online forums, the league deleted the page.
The first month of the schedule (Full schedule) || National TV Schedule