Dishin & Swishin January 19, 2012 podcast: Dawn Staley looks to change the culture of South Carolina basketball
[display_podcast]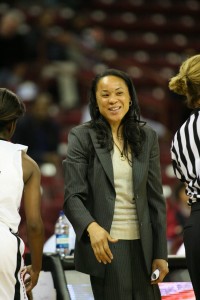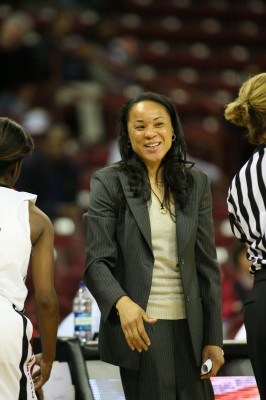 When you are a legend, in particular a local legend doing great things in your home state, it is easy to be comfortable and be content with where you are in life. Settling for being content, however, is one thing that Dawn Staley has never done.
Staley, the player, has won numerous honors and awards. As a point guard, she became one of the greatest in women's basketball history at that position by always pushing herself beyond her physical size limitations. The result is that Staley was a multiple WNBA All-Star, two-time winner of the Kim Perrot Sportsmanship award, three-time Olympic gold medalist, Olympic games flag bearer in 2004, a 2012 selection to the Women's Basketball Hall of Fame and named one of the top 15 players in WNBA history. Toward the end of her career, Staley the player also became Staley the coach, when Temple University, in her home of Philadelphia, hired her to be head coach of the women's basketball team.
Staley had a great deal of success at Temple, posting a 214-128 record and reached the postseason seven times in her eight years. Her teams had an impressive 99-25 in conference record during that time. She had retired from playing and become a full-time coach; the job was comfortable.
Being comfortable, as we have seen, is not what makes Dawn Staley a success. No disrespect to the Atlantic 10 conference or its coaches, but when South Carolina, in the Southeastern Conference, came calling, it was an opportunity to move to a bigger conference and pit her coaching skills against some of the greatest in the game, including the legendary Pat Summitt.
The problem was, South Carolina was not exactly a women's basketball juggernaut. Susan Walvius was the coach for eleven years, and while overall she had a winning record, the program had only had four winning seasons in that time. The only Gamecock player in the WNBA was Shannon "Pee Wee" Johnson and she played for Walvius' predecessor Nancy Wilson. The biggest task Staley has had to face was not facing teams such as Tennessee and Georgia of the SEC, but creating a culture where women's basketball can succeed and grow into prominence.
Slowly, Staley has gotten the program moving in the right direction. In her three completed seasons, the team's record rose from 10-18 to 14-15 to 18-15. In conference play, they went from 2-12 to 7-9 to 8-8. Last season they played in the WNIT post-season tournament. This season, they sit at 14-4 overall and 3-2 in the SEC. Perhaps most importantly, this year Staley has been able to succeed recruiting locally.
Aleighsa Welch, a 6-0 forward from Goose Creek, South Carolina was the state's Miss Basketball for 2011 and she has had an impact on this season already. Welch leads the conference in field goal percentage, hitting over 60 percent of her shots, is second on the team in scoring, and leads them in rebounding and blocks. If Staley can continue to get the local high school teams to buy into her system, the team will grow exponentially.
Active off the court in her home Philly, Staley is big on giving back, and with this week being "We Back Pat" week, South Carolina is making big strides in raising awareness of Alzheimer's disease. Not only did they have the special game versus Kentucky this past weekend, but as far back as October her team participated in the Walk to End Alzheimer's at Finlay Park in Columbia. Staley hopes to give a check for as much as $20,000 to coach Summitt when they meet in February.
So where does Dawn Staley go from here? We discussed the past, including the ABL days, the present at South Carolina, and the future, including her thoughts on USA Basketball and coaching the senior national team. One thing is for sure though, Dawn Staley will not just "settle for being comfortable."
Enjoy the podcast!