Hayes sets UConn record for points in back-to-back games as Huskies handle USF Bulls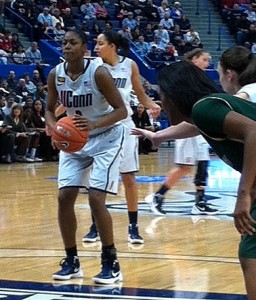 HARTFORD, Conn. – Tiffany Hayes is in a zone, one of those places where the basket looks huge and the ball is small. The senior guard, omitted from the Top 20 midseason Wooden Award list earlier in the week set a UConn record for most points in two consecutive games, 68, in leading the Huskies pass a determined South Florida team, 77-62.
Hayes followed her 35 against Syracuse, with 33 today, on 10-15 shooting from the floor, and 11-13 from the foul line. Nykesha Sales held the record previously. Combined with Stefanie Dolson, the Huskies had two players with double-doubles since the Purdue game last season, when Dolson and Maya Moore achieved the same result.
South Florida coach Jose Fernandez feels Hayes was slighted in not getting Wooden mention.
"I was surprised that her name is not in there," said Fernandez. "I think she's very very talented. I was surprised by that. Do I think she's deserving to be on that list? Yes."
Husky coach Geno Auriemma was thrilled about the performance of his lone senior.
"She was great," he said. "Tiff was just a huge factor at both ends. She played a lot of minutes against a difficult team to play against."
Auriemma also raved about sophomore center Stefanie Dolson, who added 18 rebounds to her 22 points.
"Feels like we were playing two against their team," he said. "We couldn't buy a bucket from the perimeter, so they sat in the lane. It's kind of nice to win a game without us shooting 10-20 from the three-point line and everything goes in. So I was kind of pleased with that."
South Florida presented a myriad of challenges for the Huskies, especially in the way that they could dribble through the UConn press and kick it out for three-point attempts. In the first half, junior college transfer Inga Orekhova from the Ukraine torched the Huskies, hitting four of ten three-point attempts.
Orekhova, who only joined the Bulls for the last seven games after having to sit out the first fifteen is a difference-maker on the Bulls' offense. Tall and with a quick release, she is already the team's second leading scorer and is tied for three pointers made.
Auriemma was impressed with the Bulls.
"They are a tough bunch, because they make you guard a lot of different things, and they have got so much quickness sand big kids that can shoot. That's a tough matchup for us."
"Jose's done a pretty good job of recruiting," continued Auriemma. "Orekhova is almost impossible to guard, because her range is five feet behind the three-point line. We made a bunch of mistakes on her in the first half."
Bria Hartley, despite only hitting three of nine shots and missing all four three-point attempts, contributed with a strong floor game, getting six assists to only three turnovers while pushing the ball on the Husky break, and also had six rebounds and two steals.
UConn's heads to North Carolina for a Big Monday matchup at Duke in front of a hostile crowd and will need their entire team to come out and play with the aggressiveness shown by Dolson and Hayes today. The matchup inside of Dolson and freshman star Elizabeth Williams, teammates on USA Basketball's U19 championship team (along with Hartley and Kaleena Mosqueda-Lewis) will be fun to watch.
South Florida, now 12-10 on the year, played Georgetown, Louisville, DePaul, Rutgers and Connecticut in a span of eighteen days this month. Today's 15-point loss to UConn was the largest margin of defeat.