Griner reaches another blocking milestone as No. 1 Baylor continues unbeaten streak and dominates Kansas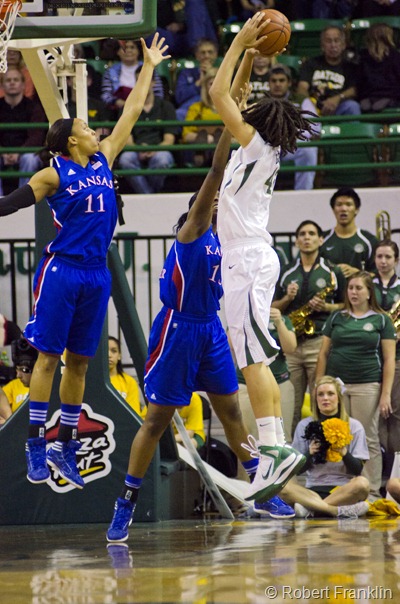 Statistical Leaders
Baylor
Kansas
Points
Griner (28)
Davis (12)
Rebounds
Williams (11)
Sutherland (10)
Assists
Sims (6)
Goodrich (8)
Steals
Two tied (3)
Sutherland (3)
Blocks
Griner (5)
Davis (2)
| | | |
| --- | --- | --- |
| Stats at a Glance | BU | KU |
| FG Percentage | 50.0 | 29.5 |
| 3-Point FG Percentage | 33.3 | 41.7 |
| FT Percentage | 88.9 | 83.3 |
| Offensive Rebounds | 12 | 9 |
| Defensive Rebounds | 34 | 20 |
| Total Rebounds | 46 | 29 |
| Turnovers | 11 | 13 |
| Points in the Paint | 54 | 20 |
| Points off Turnovers | 21 | 8 |
| Second Chance Points | 14 | 4 |
| Fast Break Points | 6 | 2 |
| Bench Points | 17 | 14 |
WACO, Texas – After losing to Baylor, 74-46, Saturday night in front of 10,006 fans, Kansas junior forward Carolyn Davis placed a lot of the blame of the defeat on her team's turnovers and poor shot selection.
"I think we kind of did it to ourselves," said Davis. "We turned the ball over and they were shooting layups. That kind of shut us down early. They got a lot of confidence. We did it to ourselves. We took bad shots at times and that's their defense. So, it was a lot of ourselves, but also their defense"
However, the final score margin indicated many other factors in the landslide.
From the outset, Baylor dominated earning a six-point lead, 8-2, before the first timeout. It took Brittney Griner less than 15 seconds to score a jumper and Jordan Madden and Kimetria Hayden contributed to the scoring momentum with a trey each.
By midway in the first half, Baylor led by 15 and Griner recorded her third block of the game putting her in the No. 2 spot for NCAA Division I career blocks at 504. She surpassed Allyssa DeHaan (Michigan State) and trails Australian Louella Tomlinson who tallied 663 during her time at Saint Mary's College.
"Blocking shot is definitely my favorite thing to do," said Griner of her prowess in rejecting shots and the excitement she showed when swatting her fourth of the night. "I just took a leap. I decided that if I miss it, oh well. I connected and turned into Quincy Acy for a minute."
While Griner, along with Destiny Williams and Brooklyn Pope, pulled down numerous rebounds on both ends of the floor, guards Odyssey Sims and Kimetria Hayden made like thieves stealing the ball from Kansas and also contributing with numerous assists.
Griner managed to even get a breather at 9:53 in the first half and Pope entered the game. But after Kansas capitalized on her absence with shot opportunities and Aishah Sutherland stole the ball from Sims to get the ball to Angel Goodrich for a layup, Baylor head coach Kim Mulkey sent her star center back into the game. She altered shots, including those of Davis, KU's leading scorer who came into the game average 18.5 points per outing. The Lady Bears limited her to 10 points and one rebound.
Baylor's relentless pressure defense led to Jayhawk turnovers and numerous missed -jumpers culminating in a 24.8 percent first half field goal percentage. KU's 17 first half points were the fewest scored in a half this season and its 46 total points were also a season low.
Mulkey praised her team's defense.
"Right now we are playing well. It's very obvious from the defensive end. I don't know how many games it has been that we have held our opponents' field goal percentage very low."
At one point, late in the first period, Baylor players swarmed Kansas guard Monica Engelman as she tried to pass the ball causing the Jayhawk to lose concentration allowing Odyssey Sims to steal the ball and race down the court for an easy layup.
Going into the break, the Lady Bears led 37-17. The team did not go into the lockerroom but stayed on the court as they celebrated family night in the arena.
Hayden attributed her team's hot start to playing in front of relatives.
"The first five minutes we played hard when we went out there," she said. "We just had a lot of energy ready to play because of our families being here."
The second half was more of the same as Baylor opened the second period on a 10-4Â  run. By the first timeout at 16:15, the score was 47-21. Unfortunately for Kansas, that 26-point lead was not the largest deficit for the Jayhawks. The Lady Bears led by as much as 30 up until the last 18 seconds of the game when CeCe Harper made the last shot of the game, a jumper with five seconds left.
Overall, Baylor shot 50 percent from the field and Kansas was held to just 29 percent. They also outrebounded the Jayhawks 46 to 29.
Griner finished with a game-high 28 points plus seven rebounds and five blocks. Kimetria Hayden added 10 and five rebounds. Destiny Williams had 11 rebounds to go with her six points.
Kansas players other than Davis in double figures included Angel Goodrich and Harper who had ten each. Sutherland pulled down ten rebounds to go with her eight points.
The Jayhawks return home to host Oklahoma on Tuesday, January 31. Baylor goes on the road to face Missouri the next day, February 1.
Notes
Baylor's 21-0 start is the best in program history. They have a school-record 35-game home win streak. Baylor's last home loss came vs. Texas on March 7, 2009. They have the longest active win streak (21) in NCAA Division I women's basketball.
The crowd of 10,006 was the second-largest home crowd of the season and 13th all-time.
Griner has scored in double-figures in 61 straight games and in 91 of 93 in her career.