Mega trade sends Swin Cash and Le'coe Willingham from Seattle to Chicago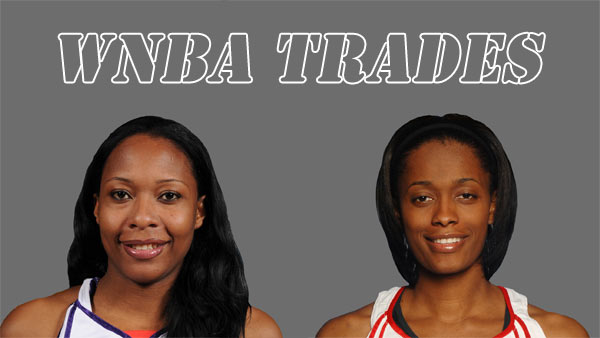 It did not take long for the first trade of the New Year to take place in the WNBA as the Seattle Storm and the Chicago Sky look to shake up their rosters. The teams negotiated a trade that sends Seattle forwards 6-1 Swin Cash and 6-0 Le'coe Willingham to the Sky with a second-round pick in exchange for the No. 2 overall pick of the 2012 WNBA Draft.
Last year's aging Storm squad lost to the Phoenix Mercury in the Western Conference semifinals. Head coach Brian Agler and Storm executives began planning the offseason moves early last fall.
"Obviously this trade is going to provide us an opportunity to select a good young player or the opportunity to use the second pick in the draft to bring young talent onto our roster," said Agler to stormbasketball.com. "At the same time, it frees up a substantial amount of cap space where we can go out and be active and aggressive in the free-agent market."
Chicago is strengthening its roster.
"With the additions of Swin and Le'Coe, we have gained tremendously skilled players and leaders," said Chicago Sky head coach Pokey Chatman about the transaction. "They also possess the experience and intensity needed to not only compete, but succeed at the highest level."
Cash, a gold medal Olympian, who previously played for the now-defunct Detroit Shock, was the first player Agler signed with the Storm when he took over the team in 2008. She has a total of three WNBA championships under her belt and two All-Star MVP awards (2009, 2011). The Connecticut graduate was selected by the Detroit Shock in the 2002 WNBA Draft as the second overall pick. She helped lead the Shock to the WNBA title in 2003.
Willingham joined the Storm in the offseason in 2010 after winning a championship with the Phoenix Mercury in 2009. The Auburn graduate began her career with the Connecticut Sun, signed as a free agent in 2004. She joined the Phoenix Mercury in 2008.
"I'm looking forward to experiencing their impact, not only on game nights, but at practice, in the locker room, as well as in the community," added Chatman. "I'm excited to start the season."
The Storm re-signed star forward/center Lauren Jackson to a multi-year contract extension on August 2, 2011.
More from Agler:
"We've spent a lot of time analyzing our current needs and what it will take to win another championship. We believe this trade positions us for short- and long-term success by adding a lottery pick and creating a substantial amount of salary cap space for free agency. We are very thankful for the Swin and Le'coe's contributions to the success of the Storm, including the critical roles they played in helping us win the 2010 championship."