Sky and Storm both turn the page with Swin Cash trade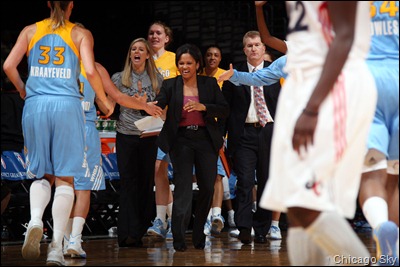 Pokey Chatman and the Chicago Sky
[display_podcast]
It is the second day of 2012 and already two WNBA franchises have turned the page and started in new directions. The acquisition of Swin Cash and Le'coe Willingham by Chicago in a trade for the number two pick in this year's draft.
The Storm proactive moves show that they will not accept continuing to age gracefully. It is clear that they have decided they need to get a younger player that they hope can impact the team with the second pick in the draft. The downside to the Storm's success has been a repeated late round draft choice, something that does not usually pan out in the WNBA in terms of player success.
By aggressively trading two higher priced veterans that were crucial to their success in recent years, the Storm indicates they will get younger and that they will have salary cap room to still add a quality player to go with their core of Lauren Jackson, Sue Bird, Camille Little and Tanisha Wright – certainly not far from remaining a championship caliber team.
For Chicago, the Sky have finally found the high energy, high profile forward to play alongside Sylvia Fowles they have needed in Cash, and also added an aggressive rebounding forward to help Fowles with the dirty work in Wilingham.
Previously, the Sky thought they had gotten this by picking up Shemeka Christon and Cathrine Kraayeveld as part of the multi-team trade of All-Star Candice Dupree. But various injuries kept Christon from being the impact player Chicago had hoped for and Kraayeveld had not produced as well as the Sky had anticipated.
Both Cash and Willingham have championships in their history, important for a young team trying to grow like the Sky. Also, in Cash, the 2011 All-Star game Most Valuable Player, it cannot be overlooked that the Sky also have a well-spoken person who enjoys being in the public eye, as opposed to the more private Fowles. Cash should certainly help put some people in the seats. A vocal, team leader, Cash may be just what Chicago Sky coach Pokey Chatman needs to take Chicago to the top of the Eastern Conference.