Syracuse Orange push UConn Huskies before disappointing Carrier Dome crowd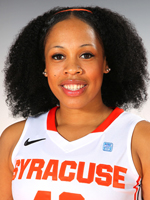 To make it perfectly clear, this is easily the best Syracuse women's basketball team I have seen play. They have talent, they are aggressive, and they play in the same supposed basketball crazy area as the men's team that was number one for a long time this year.
So it is with both disappointment and annoyance that I write about  coach Quentin Hillsman's Orange playing before a crowd of 4,357 against the third-ranked UConn Huskies last night. That was actually their largest attendance of the season. Sure, UConn had too much talent in the end, but for a half, those in attendance that supported their team and school saw an excellent performance and a glimpse of what could be in the future, if Hillsman sticks around and continues to guide this team.
Of the Syracuse starting five, only leading scorer Iasia Hemingway is a senior. Impressive center Kayla Alexander, guard Carmen Tyson-Thomas and point guard Elashier Hall are all juniors, and guard Rachel Coffey is a sophomore. The bench only has one other senior, so the future looks bright for Syracuse. Now if the school and its fans will get behind the team, things really could be good for Hillsman's team.
Don't let the final score, 95-54, fool you. Syracuse was right there for basically the entire first half, and the score was tied with nine minutes to go in the first half. A 16-9 run to close the half gave UConn a seven point lead at the break. As a comparison, UConn led Stanford by six, and Texas A&M by 12. Yet here was Syracuse, trailing only by seven.
Tiffany Hayes continued her hot play, however, and was perfect for the floor in the second half, making all four shot attempts including three three-pointers for 16 second-half points on her way to a career high 35 for the game. In fact the entire Huskies team was red-hot shooting in the second half, shooting 62.5 percent.  In her first start, Kaleena Mosqueda-Lewis scored 19 points, and Bria Hartley continued her stellar play at the point, scoring 18 points and adding seven assists while committing only two turnovers.
Their defensive pressure caught up with Syracuse, as the Orange only shot 24 percent for the period, and were held to 21 points, eliminating any chance of those 4,357 people getting free tacos, which would have happened had the Orange scored 65 points in the game.