A Dishin & Swishin Special: Pokey Chatman from Russia on the signing of Ticha Penicheiro
[display_podcast]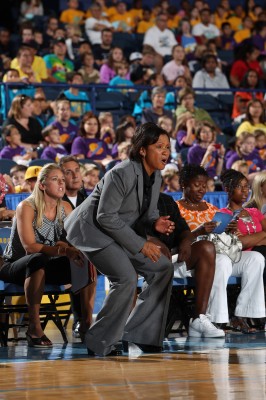 Go ahead, just ask the Minnesota Lynx.
Sure, you can have an extremely talented, young roster of players, and what will it get you? Not into the playoffs necessarily, never mind a title. Now, what happens when you add experienced veterans who have won a championship and a point guard who loves to spread it around? We are talking championship in the case of Minnesota, when Taj McWilliams-Franklin, Rebekkah Brunson and Lindsay Whalen joined Seimone Augustus, Candice Wiggins and the rest.
So this season we may get the answer to the question what happens when you add four veterans who have won championships, including a point guard who loves to distribute to perhaps the best center in the league, a dynamic combo guard who we know can score, and a young point guard who needs tutoring.
Pokey Chatman, head coach of and general manager of the Chicago Sky and I talked yesterday, as the Sky announced the addition of Ticha Penicheiro to the Sky roster. Penicheiro, one of the greatest point guards in WNBA history, thought about retirement, but instead chose to leave her familiar west coast to join forces with previous championship winners Swin Cash, Ruth Riley, and Le'Coe Willingham, superstar center Sylvia Fowles, Epiphanny Prince and Courtney Vandersloot. She hopes to continue to transform the Sky into an Eastern Conference contender.
There is an opportunity here. In this Olympic year, even though Fowles and Cash are Team USA finalists, the others will be available from day one of the season. This will help the Sky try to break out from the start and establish itself as a team to beat in the race for not only the playoffs, but also home court advantage.
Message boards immediately questioned whether this meant the end of Vandersloot in Chicago, to the contrary, Chatman pointed out to me she has turned down offers for Vandersloot, and feels that Penicheiro is just the person to not only help nurture her young point guard, but they will help reduce each other's minutes.
Chatman and I discuss how Penicheiro fits in, some of the influencing factors in her coming to Chicago (including the six foot six inch influence), plus the additions of Riley and the re-signings of Tamera Young and Shay Murphy since we last talked after the Cash/Willingham trade.
Make no mistake about it, the Chicago Sky are seeking more than just wins this season. This is a franchise seeking to make an identity for itself, brand itself, and get fan support. It is a franchise trying to become identifiable and viable in the marketplace.
Let me ask one simple question, when was the last time you saw the name "Chicago Sky" associated with anything?
Now look at their presence at NBA All-Star weekend. Swin Cash is a regular at NBA All-Star events and continues this year. Ruth Riley will be there, promoting the team and league in community events. They have added this offseason, not just skilled players in Cash, Riley, Le'coe Willingham, and now Ticha Penicheiro, they have also added dynamic, charismatic individuals who "get it" and want to see the WNBA succeed.
The addition of Ticha Penicheiro today, signed to a one year contract makes sense on all of these levels.
Pokey Chatman is getting it done, and making things happen, even while in Russia. Something many thought she could not do.