Baylor presses the easy button in rout of Oklahoma, 81-54
WACO, Texas – No. 1 Baylor had no trouble defeating Oklahoma 81-54, Monday night in front of 8,341 fans in Waco. After the Sooners earned a slim lead during the first few minutes of the game, the tide turned when the Lady Bears made several key steals to begin their takeover of the game.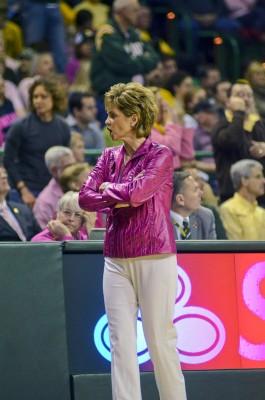 Baylor head coach Kim Mulkey was upbeat postgame and praised her team's defense.
'I'm glad they're finally buying into what we're teaching them on the defensive end of the floor," said Mulkey. "They are listening to the scouting reports and making it very difficult for people to score. They are taking pride in that. I thought the game was very physical. It might have been our most physical game of the year. I thought that our kids kept their composure."
While Oklahoma managed to jump out to a 7-2 lead within minutes, at 13:21 Odyssey Sims made a layup to tie the game at 11. After three minutes the Lady Bears had a nine point lead, 20-11.
"You didn't think Oklahoma was going to come in here and lay down did you? They came out shooting and moving," said Mulkey of the Sooners' quick start, "and they were very active on the offensive end. They made big shots early, and I thought they were much more physical in this game than they were in Norman. I thought our kids honestly needed that. We just beat another really good team."
By halftime, Baylor star center Brittney Griner had 16 points, six rebounds and four blocks and her team led 41-30.
Griner finished with 27 points, eight rebounds and eight blocks in 29 minutes of play. She was perfect from the free throw line, 13-13, a career high.
"She separates herself as a post player because she is so good at the free throw line," said Oklahoma coach Sherri Coale about Griner's free throw shooting.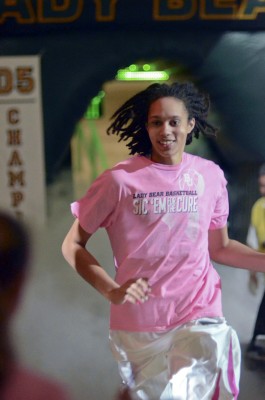 Teammate point guard Sims was also in double figures with 14 points plus four rebounds and four steals. Brooklyn Pope contributed 11 points and six rebounds. Destiny Williams pulled down 15 rebounds, a season high and one off a career high.
For Oklahoma, Whitney Hand led her team with 20 points and six rebounds. Freshman Sharane Campbell scored 13 points and had four steals.
Baylor is now 24-0, a record that gives them the best start in program history. They have the longest active win streak (24) in NCAA Division I women's basketball.
Oklahoma drops to 15-7. They came into the game tied with Texas A&M for second place in the Big 12.
When asked if she thought Baylor is better than last year, Coale talked about the growth the team as a whole and Griner's evolution.
"Griner has gotten better every year. That summer that she spent with USA basketball is obviously paying off," said Coale. "She is a much more mature player, has so much more depth to her and so many more things she can do. There are a lot of upperclassmen on the floor, and very little youth. Even Odyssey (Sims), she's a sophomore, but she played every minute as a freshmen, so they are deep and they've got all those weapons ."
Oklahoma heads home to Norman to face Missouri on Saturday afternoon while Baylor hosts on the defending national champion Texas A&M that evening.