No. 1 Baylor hosts Oklahoma, Sooners riding a win streak
Oklahoma at No. 1/1 Baylor
Monday, February 6, 2012 – 9:05 p.m. (ET)
Ferrell Center, Waco, Texas
Television/Streaming: ESPN2/ESPN3.com (Pam Ward and Rebecca Lobo)
Radio:ESPN Central Texas/1660 AM, 101.3 FM, Sooner Sports Network/ Oklahoma City: KOKC 1520 AM/ Norman: KREF 1400 AM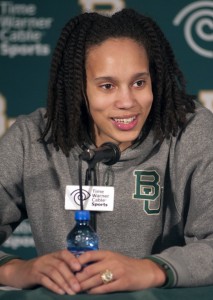 WACO, Texas – No. 1 Baylor (23-0, 10-0) looks to complete a regular season sweep of Oklahoma (15-6, 7-3) when they host the Sooners tonight in Waco. The undefeated Lady Bears come into the contest off of two road victories: a 70-41 rout of Kansas State Saturday night and a 71-41 drubbing of Missouri last Wednesday.
The Sooners, led by the hot shooting of freshman guard Sharane Campbell, defeated Oklahoma State, 80-71, Saturday night for a third straight victory.
The Lady Bears and the Sooners last met January 26 in Oklahoma and Baylor came out on top, 89-58.
Oklahoma's freshman sensation
Since the two teams first meeting of the season, fresman Sharon Campbell has emerged as the Oklahoma's leading scorer in the last several games.  In the past three contests she has averaged a team-leading 18.0 points, hitting 60 percent of her field goal attempts and while grabbing 6.3 rebounds. She also led the Sooners at the free throw line (21-of-29, .724).
Overall, sophomore Aaryn Ellenberg, a 5-7 guard, leads the Sooners at 16.1 points per game. Next is junior guard Whitney Hand with 12.0 points and sophomore guard Morgan Hook averaging 10.9 an outing.
Oklahoma's leading rebounder Joanna McFarland is sideline with a fractured jaw. Hand follows with 6.7 rebounds per game.
Baylor's dominance
Baylor center Brittney Griner is the nation's seventh-leading scorer, averaging 22.8 points per game, the team's rebounding leader (9.8 per game), and the country's leader in blocks (5.2 per game). She scored 28 points in the win over Kansas City putting her over the 2,000-point career scoring mark. She became the first player in NCAA Division I women's basketball history to record 2,000 points and 500 blocks.
Sophomore point guard Odyssey Sims averages 15.3 points and 5.2 assists per game. Junior forward Destiny Williams adds 10.2 points and 9.0 rebounds.
Overall, Baylor leads the Big 12 in scoring offense (80.7 points per game), scoring defense (50.7) and rebounding margin (+14.7).
Baylor's 23-0 start is the second-best in Big 12 history behind Nebraska's 30-0 mark to begin the 2009-10 season.
 

Baylor Projected Starters

No.

Name

Pos.

Year

2011-12 Statistics

0

Odyssey Sims

G

5-9

So.

15.3 ppg, 5.2 apg

1

Kimetria Hayden

G

6-0

Jr.

8.7 ppg, 4.4 rpg

3

Jordan Madden

G

6-0

Jr.

5.0 ppg, 3.0 rpg

10

Destiny Williams

F

6-1

RS-Jr.

10.2 ppg, 9.0 rpg

42

Brittney Griner

C

6-8

Jr.

22.8 ppg, 9.7 rpg
 

Oklahoma Projected Starters

No.

Name

Pos.

Year

2011-12 Statistics

10

Morgan Hook

G

5-10

So.

10.1 ppg, 4.3 apg

3

Aaryn Ellenberg

G

5-7

So.

16.1 ppg, 2.7 rpg

25

Whitney Hand

G

6-1

RS-Jr.

12.0 ppg, 6.7 rpg

42

Kaylon Williams

F

6-3

Fr.

4.1 ppg, 5.1 rpg

4

Nicole Griffin

C

6-6

So.

6.1 ppg, 4.2 rpg