Another Elite Eight for Stanford, Cardinal defeat South Carolina, 76-60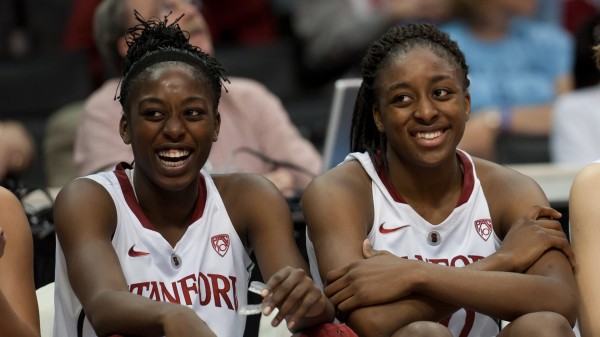 Box score | Photo gallery | Video
Senior forward Nnemkadi Ogwumike's 39 points and 10 rebounds helped propel No. 1 seed Stanford into another Elite Eight Saturday night. The Cardinal defeated No. 5 seed South Carolina 76-60. If they beat Duke Monday night in the final of the Fresno Region, they will head to their fifth straight Final Four.
After leading by only three points near the end of the first half, Stanford's Joslyn Tinked banked a three-point shot at the buzzer to end the period giving her team a 36-30 edge. Other Cardinal players in double figures included sophomore guard Toni Kokenis and sophomore forward Chiney Ogwumike. Kokenis scored12 points and pulled down seven rebounds while the younger Ogwumike had 11 points and 10 rebounds.
"We're really excited to be playing on Monday night," said Stanford head coach Tara VanDerveer. "First thing, I just want to compliment Dawn [University of South Carolina] on a great job. They were extremely aggressive and physical team. They worked really hard against us; we really had to work hard to beat them. Nneka just did an awesome job inside. Jos stayed with things, she played great defense, knocked down that 3 at the end of the first half. We really had to chip away at things; we took care of the ball; we worked really hard defensively and Nneka would just not be denied."
For South Carolina, La'Keisha Sutton led her team with 18 points. Markeshia Grant scored 14 and pulled down seven rebounds.
"I thought we played as well as we could play, considering who we were playing and the type of night Nnemkadi Ogwumike had," said South Carolina coach Dawn Staley. "My hat goes off to our players who fought so hard and gave every ounce that they had. I think our seniors left a legacy for us to emulate so hopefully we'll get back to this point and we'll go farther."
Stanford improved to 34-1 while South Carolina ended their season 25-10.