Griner dunks again and Baylor makes a thunderous entrance into the Elite Eight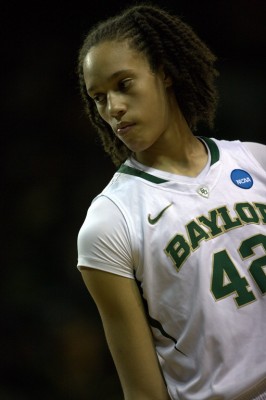 Video | Box score | Photo gallery
With a comfortable lead over Georgia Tech late in the second half, No. 1 seed Baylor put the nail in the coffin when 6-8 center Brittney Griner slammed a two-handed dunk to the eruption of the crowd at the Des Moines Regional of the NCAA tournament and began a trending topic on Twitter.com.
It was the seventh dunk in her career and second straight. The feat puts her in a tie with former  Tennessee player Candace Parker for the most dunks in the tournament.
The Lady Bears put away No. 4 Georgia Tech 83-68 to advance to the Elite Eight. They will meet Tennessee Monday at 7 p.m. ET for a chance to reach the Final Four in Denver. The Lady Vols are 2-3 all-time against Baylor and have a 1-1 record against them in NCAA Tournament play.
After earning a four-point lead in the first four minutes of the game, Georgia Tech withered in the face of Baylor's prowess on both ends of the floor. Destiny Williams carried the scoring load for the Lady Bears in the first half and ended the period with 16 points plus three rebounds. Overall she tallied 18 points and five rebounds. Griner who finished the first half with 15 points, scored more than double that figure after the break for a total of 35 plus 10 rebounds and six blocks.
Sydney Wallace led Georgia Tech with 32 points.
Baylor moved to 37-0 overall while Georgia Tech fell to 26-9. The Lady Bears' record is the best in program history and keeps them as the only undefeated team in NCAA Division I.  They advance to the Elite Eight for the third straight year and fourth time in program history.
Notes
Baylor is the fifth team in the NCAA era to reach the 37-win mark in a single-season:

39 — Tennessee, 1998; Connecticut, 2002, 2009, 2010
37 — Connecticut, 2003, Baylor, 2012.

Griner's second half dunk is just the fourth in NCAA Women's Tournament history, Tennessee's Candace Parker threw two down vs. Army in 2006, while Griner recorded one vs. Florida and one vs. Georgia Tech. She has scored in double-figures in 77 straight games and in 107 of 109 in her career.