Auburn coach Nell Fortner's parting words after team's 1st round SEC exit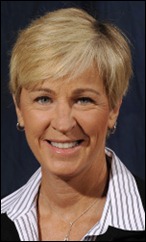 After coaching at Auburn for eight years, head coach Nell Fortner announced her retirement last week. Her time at the school included a 145-106 record. She coached her last Tiger game tonight, a 70-60 loss to Florida.
Fortner was the head coach of the Olympic gold-medal winning United States women's basketball team in 2000. She took over the top coaching job and general manager position for the WNBA Indiana Fever in 2001.
Post game press conference with Fortner and student-athletes Blanche Alverson and Tyrese Tanner
THE MODERATOR: We're joined by Auburn head coach Nell Fortner, junior guard Blanche Alverson and Tyrese Tanner. Coach, some comments.
COACH FORTNER: I thought this team played extremely hard today and did everything they could to give us a chance to win. I'm just so proud of their effort. Just their determination down the stretch, I really thought we had a shot all the way until about, what, 28 seconds. Just thought they worked hard. We just couldn't get to the free-throw line enough today. Kind of made the difference in the game.
THE MODERATOR: We'll take questions.
Q. What was the locker room like after the game? Had to be an emotional scene.
COACH FORTNER: It was a little emotional. But, you know, we played hard. We felt like we gave ourselves a shot to win the game. So it was kind of emotional. But these kids are fighters. They put everything into it to get a win. They'll be okay. They'll be all right.
Q. Coach, just talk about how in the first half the boards were completely lopsided, then you came out in the second half and showed up and the boards were even. What brought your players out playing with a different mentality?
COACH FORTNER: A matter of having 20 more minutes left in your season. It's a one-and-done situation. That's a lot of motivation in and of itself. That's a reminder of that. Specific things, they were killing us on the offensive boards in the first half. It was the difference in the game. So we knew we had to battle back in that regard, keep them off. We needed to get our own offensive boards. I think just a little more focus and determination to not let them dominate us in that area.
Q. For the student-athletes, just talk about what Coach Fortner has meant to you and Auburn.
BLANCHE ALVERSON: Well, it's a recruiting process, Coach Fortner was the reason we all decided to come here. When she told us this would be her final year, we were shocked and upset. A lot of our last few games have been coming out and playing hard for her, giving it all we got just to finish out strong.
THE MODERATOR: Tyrese.
TYRESE TANNER: Just as Blanche was taking, Coach Fortner, with her leaving, it meant a lot to us for her coaching us, so we're going to miss her.
Q. Did you feel like the way you were down at halftime, you didn't lay down in the second half, do you think that makes you feel better about the way you played in your last game here?
COACH FORTNER: I think they should feel really good about that because I thought they played extremely well. I think it was an effort, the second-half effort, was I think how I envisioned us playing all year long. The aggression on trapping screens, the rotations, attacking the basket. It was 20 minutes of really how we've wanted to play all year. Just kind of eluded us a little bit.
They should feel very proud of how they finished the season. They should feel great going into the spring and summer, getting ready for next year, because they're going to be really, really good.
BLANCHE ALVERSON: I think it should give us some momentum going into the off-season, fuel us to keep getting better because of the potential we have. Playing hard in this game really fuels us for the off-season.
TYRESE TANNER: I'm good (laughter).
Q. Talk about what your time at Auburn has meant to you.
COACH FORTNER: You know, Auburn came into my life at just the right time. It was the perfect job for me at just the right time. We had so much fun building that program, just doing a lot of things. Winning the SEC championship in 2009, getting that Coliseum filled up, getting Auburn excited about women's basketball. I'm most proud of that. I think we've recruited fantastic student-athletes, not only are they good people and good basketball players, they're great in the classroom. So proud of what they've done. Sitting here with Auburn's first ever SEC Scholar Athlete of the Year in women's basketball. So, so proud of Blanche. I think just overall I'm most proud of everything that Auburn has meant to me and helped me accomplish. The administration gave us everything we needed from budget to scheduling to do everything we can to attract the best athletes. I think it just came to me in my life at the right time, and hopefully I came into Auburn's life at the right time. I'll forever be an Auburn Tiger. Thank y'all very much.