Dishin & Swishin 3/01/12 Podcast: Heading into the NCAA postseason, part one of a look at ten "game-changing players"
[display_podcast]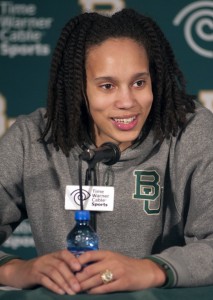 Throughout the NCAA women's basketball season, Dishin & Swishin kept you up to date mostly through conversations with coaches and journalists. The reason for this is that at DNS, we respect how busy the schedules of the student-athletes can be and have tried not to disturb their routine. Now, you have all been so patient, it is time to get fired up for postseason play with a special two part, two-day podcast, featuring ten of the absolute best players in the nation, five today and five tomorrow.
The focus is on the difference makers, the game changers and those that influence a game, the players that impact just about every game in which they play. I talked to all four of the favorites for National Player of the Year honors, a few conference players of the year and all-conference selections, and quite possibly one or two you may not know much about if you are not a devout women's college hoops junkie. So let us get things started with today's five players.
At 6-8 it is impossible to not notice Brittney Griner on the basketball court. During her first two college years, Griner was a dominant defensive presence, something she takes extreme pride in, and she has a goal of becoming the all-time NCAA shot block leader. This season Griner has proven to be a game changer on offense as well.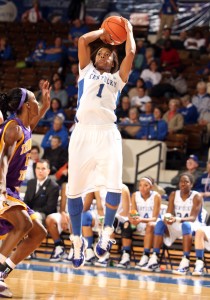 She is averaging over 22 points per game to go along with her nine plus rebounds per game and over five blocks per contest. You can really hear the pride in her voice, however, if you mention her foul shooting. Griner is hitting over 80 percent of her considerable amount of foul shot attempts, making it even tougher to defend her. No longer does the "hack-a-Brit" defense work against the top ranked Bears.
As Baylor moves through the Big Twelve conference tournament and then the NCAA tournament, the questions will arise about whether Baylor will go undefeated. Can they be stopped? It makes for a great storyline as we enjoy the college years remaining in Griner's career.
The Duke Blue Devils are the ACC regular season champions, and sitting at number five in this week's Associated Press poll. Point guard Chelsea Gray is a primary reason for much of the team's success. Recently named first team All-ACC, the Blue Devils' floor leader averages over eleven points per game while shooting 40 percent from the three-point line. She has also contributed almost five rebounds and two and a half steals per game. A finalist for the Lieberman award given to the top point guard in the country, she also averages over six assists per game tallying had six or more fourteen times this season.
Matthew Mitchell's Kentucky Wildcats are the SEC regular season champions. They boast the conference Player of the Year, who three times this year has been the SEC player of the week. A'dia Mathies leads the 'Cats in scoring, steals, three-point field goals made, and three-point field goal percentage and is second in rebounds, assists and blocks.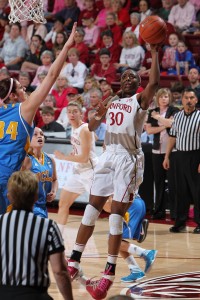 Not bad for a 5-9 guard. Those that did not know of Mathies certainly did after she scored 34 against Tennessee in a Wildcat win at Thompson-Boling Arena in Knoxville. In conference play, Mathies is in the top ten in seven statistical categories, including scoring and assists. Kentucky will only go as far as Mathies takes them.
In the fourth game of the season, Stanford lost to Connecticut. Since that game, the Cardinal have gone undefeated, including a perfect record in winning the first regular season Pac-12 title. There is no denying that the force behind the Cardinal is senior forward Nneka Ogwumike. A candidate for National Player of the Year honors, there are very few flaws in Ogwumike's game. She is dominant in the paint, and has a strong mid-range game as well. Barring any bizarre happenings, she will be the 1stpick in the 2012 WNBA draft, and join Candace Parker on the Los Angeles Sparks. But for now, Ogwumike is enjoying scoring over 21 points and ten rebounds per game in less than 30 minutes per game. Combined with her sister, sophomore forward Chiney, the Ogwumikes have made the Cardinal a legitimate contender for the Final Four.
If Delaware is the top mid-major in the current polls, Green Bay is close behind. The Phoenix are 25-1 and 11th in both polls, with one conference loss. They are led by Julie Wojta (pronounced White-uh), a 6-0 forward. She thrived this season, winning Horizon League Player of the Week four times, and getting added to the Mid-season Wade Watch list. Wojta is also a second team Academic All-American, and has gone the entire season without scoring less than 12 points in a game.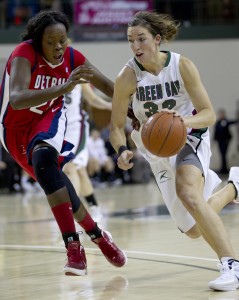 In Green Bay's win over Wright State on February 11th she had 30 points, 20 rebounds, five assists and four blocks. Wojta is one of the most tenacious players in the country and one you will enjoy watching in the postseason.
Those are the guests in part one of the special NCAA post-season podcast. I hope you enjoy today's show. Be sure to come back tomorrow to see who the remaining guests are and hear their thoughts!