Baylor marches on to the Final Four, Summitt's Lady Vols head home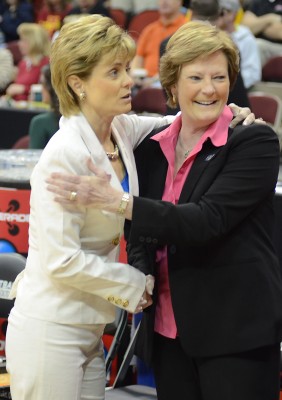 In the sixth ever meeting between Baylor and Tennessee, the Lady Bears advanced to the Final Four with a 77-58 victory in the Des Moines Regional Final of the NCAA tournament. With the future of head coach Pat Summitt's role on the sideline in the air, the Lady Vols head back to Knoxville with an 18-7 all-time record in Elite Eight games and a 27-9 season record. Summitt's legendary career record as the most winningest coach in NCAA basketball history stands at 1098-208 including eight NCAA titles and 18 Final Fours.
"It's not fun for me to coach against Pat," said Baylor head coach Kim Mulkey. "It'd be like coaching against Leon [Barmore], and I don't take great pleasure in that. But I have a job to do. My relationship with Pat Summit will never interfere with what those kids in the locker room are trying to do – and that's win a national championship."
Both teams came out the gate with jitters and had trouble making shots. Tennessee earned an early 9-4 lead in the first six minutes but Baylor roared back to tie it up and never looked back. Blocks from Brittney Griner and baskets from Kimetria Hayden put the Lady Bears back in the game. At the half, they led 35-20.
In the second half, Tennessee managed to get within single digits several times but with ten minutes left in the game the Lady Bears began to pull away for good. Baylor point guard Odyssey Sims powered her team's offense with a flurry of three-point shots while Hayden and Griner worked the paint.
A scuffle between Lady Vol Shekinna Stricklen and Sims marred the game late in the second half. Three Baylor players left the bench and officials ejected them: Griner, Jordan Madden and Terran Condrey.
Sims scored a game high 27 points and Griner was one block shy of a triple-double before the ejection. She finished with 23 points, 15 rebounds and nine blocks.
For Tennessee, Glory Johnson led with 21 points and 13 rebounds. Stricklen scored 20 points and pulled down 11 rebounds.
Baylor now leads the series with Tennessee 4-2. Kim Mulkey's career records stands at 336-79. The win over Tennessee gave this year's Lady Bears the program record for the most points in a season in NCAA competition at 2997, besting the 2010-11 record of 2,920.
"It's not over," said Griner. " We got our next game, and it gets tougher as you go. We have to focus and get ready for our next game."