Dishin & Swishin on Selection Monday: Expectations and surprises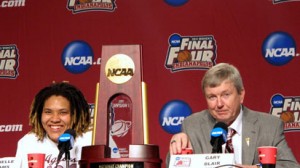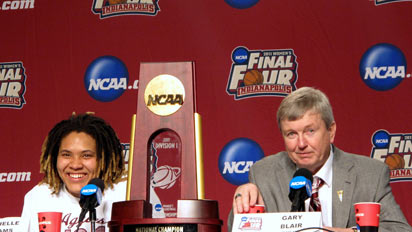 I always find it amusing that in a mere matter of days, emotions run from the euphoria of conference tournament championships to the happiness, disappointment and confusion of NCAA tournament selection Monday, to the excitement of getting ready for that final race to the Final Four.
Things are no different this season.
Take a team like Green Bay, who avenges their one loss to a gritty Detroit team to win the Horizon League championship and get that automatic bid on Sunday. The Phoenix spent Monday getting ready to see where their top ten team would be sent. On Monday, the Phoenix found themselves a seven seed (with at least 24 teams ahead of them), playing Iowa State, a ten seed, on Iowa State's home court. Now there is some cause for irritation! Now, however, it is Tuesday, and it is on to game planning and trip preparation.
While the committee made a few head scratching decisions on seedings (Ohio State as an eight, really?), and a number regarding geography (Duke does not play in Chapel Hill with no North Carolina in the tournament), I don't think the committee did a bad job with their most important task, choosing the best 64 teams.
I do question whether the Big 12 conference was rewarded for lifetime achievement instead of current year performance. Texas and Kansas both were selected at the expense of Virginia and Temple, in particular. While Virginia did play the easier end of the ACC conference, they did beat Tennessee. I wonder if the committee members really watched a number of Atlantic 10 conferences games this season, because in addition to Saint Bonaventure and tournament champion Dayton, Temple played a quality out of conference schedule, and while they may not have won some of the games, they played Duke, Texas A& M, and St. John's (all top three seeds) tough.
I know the committee looks at strength of schedule, conference strength, and RPI, but do they use the "eye test" enough? Are they actually looking at teams they are seeding and matchups they are making in evaluating these teams? Television and the Internet make it easier than ever before, but sometimes there is no replacing being courtside and watching a team play. Only the committee can answer that question.
A few points of interest to ponder for the next few days:
Very few mid-majors are more interesting than Saint Bonaventure (great coach, team predicted low in their conference, goes 29-3), Florida Gulf Coast (great coach, first year in Division I, 29-2), and Marist (even better coach, seven straight conference championships, almost defeated Duke last year, 25-7). Yet they are all in the same pod, meaning only one could come survive the weekend. In the same pod, what did Georgia do to a committee member to get sent as the only large conference school in that pod? Andy Landers' team is looking at three schools that are smaller than some of the classes they attend.
The frequent flyer award has to go to the Miami Hurricanes. From Miami to Spokane to Kingston, should they win their games (they are looking at potentially playing Gonzaga in Spokane). Change from Eastern Time to Pacific Time back to Eastern Time: a total, over 5,700 miles of travel. Connecticut on the other hand, travels less than 200 miles in going from Storrs to Bridgeport to Kingston.
Let me understand this – the Tar Heels do not make the tournament. Instead of letting Duke travel down Tobacco Road, the committee sends them to Nashville, and a potential game with seventh-seeded Vanderbilt on Vandy's home court. As Mechelle Voepel tweeted last night, don't tell me "they should be able to win" there, it is just not fair and correct that it should be placed like that when it is not necessary. I really do not want to see what the attendance is going to be in Chapel Hill, with Georgia Tech the "home" team and the next highest seed being Georgetown, who plays in front of six hundred or so people usually. I hope Sacred Heart travels well!
Yes, I made it this far without a mention of Baylor before this paragraph. See, it can be done.
The Bears' bracket, the Des Moines region is loaded with great theater, so let me commend the committee there. In this one region, start with underseeded Ohio State potentially facing Baylor in round two, and a great backcourt battle with Samantha Prahalis and Odyssey Sims. Little Rock has the Big Ten's Nebraska facing their old Big 12 opponent Kansas. Delaware opens with Arkansas-Little Rock, in Little Rock. DePaul and Anna Martin have to face Brigham Young's depth and backcourt skills, in Chicago, where Doug Bruno has thrown down the challenge, daring the city to sell out the arena. Then there's Tennessee playing Tennessee-Martin, last time they met Pat Head was playing in the game.
Future round possibilities in Des Moines include Nebraska versus Delaware. Sophomore Jordan Hooper and junior Lindsey Moore are outstanding, and they could give Delaware a struggle, with the winner potentially getting Tennessee. After that, the winner there will most likely get Baylor. Now that is a fun region!
Enjoy watching the stars and big names of the tournament, but especially enjoy Nneka Ogwumike of Stanford and Julie Wojta of Green Bay, because the college game will miss these two outstanding seniors after this tournament. They are two of the most impressive young women around, both on and off the court.
On Thursday afternoon at 3 p.m. ET here on Hoopfeed, we will air the annual Dishin & Swishin pre-tournament NCAA roundtable, which I am sure will give you even more food for thought, more questions, more answers, and more insight into the great event the tournament always turns out to be. Participants include ESPN's LaChina Robinson, the Associated Press' Doug Feinberg, the Seattle Times' Jayda Evans and espnW's Michelle Smith and more. I know you will enjoy it!