DePaul's Anna Martin taking matters into her own hands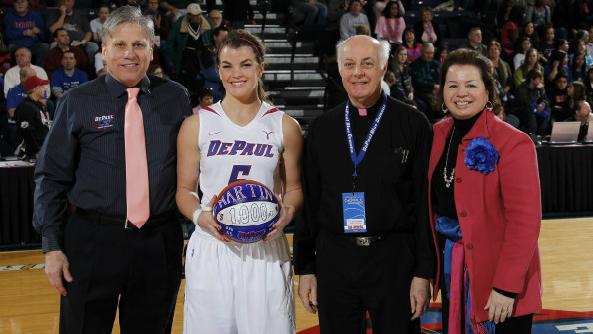 If you look in the women's basketball media guide issued by DePaul University, there are thirteen players on the team. In actuality, due mostly to injuries, the team is a seven-player rotation.
In a November 10 article in the Chicago Tribune, coach Doug Bruno was quoted as saying "we have built this around Keish. We have an underlying expectation that she is going to have a great year."
Keisha Hampton, the projected all-conference, all-american forward, however, was not able to make it through twelve games before being shut down for the year with knee issues. Hampton was joined on the sidelines by 2010-11 Big East Sixth Man of the year Taylor Pikes, forward Alexa Gallagher and guard Chanise Jenkins. Maureen Mulchrone is also sidelined with a back injury.
Enter Anna Martin. The 5-9 junior guard was already being counted on to provide backcourt stability for the Blue Demons, and she knew she would have to improve on her 10.8 points per game from her sophomore year. She had averaged only forty percent field goal percentage her first two years though, and Bruno was going to need more than that.
"I came into the season knowing I'd have to step up from the very beginning. We didn't have a lot of experience, we had a lot of youth," Martin explained. "Keisha Hampton was obviously an All-American and a senior, but me and Kathy Harry were the only juniors, and we knew we had to step up at the guard position, and I tried to do that."
When Hampton went down though, the dynamics of the team changed. Martin was no longer a supporting player, she was the team leader. She took the job, and ran with it, and the result was a season where she was one of three unanimous choices (the others being Notre Dame's Skylar Diggins and UConn's Tiffany Hayes) to the Big East All-Conference first team. Martin raised her scoring to 19.0 points per game, and her shooting percentage to 47.4. She increased her rebounding and assists as well.
"When Kesha went down and the injuries kept on piling up, it was hard, it was really hard," said Martin. "You look around and I had played with Kesha for three years, and I just tried to stay positive, I tried to motivate. We had tough practices, without as many subs, but we've got to get better, so we do have really tough practices.At the same time, I feel if I motivate, and I lead by example, the rest will follow."
Somehow, despite the shortened bench and the loss of an All-American, DePaul rolled into the Big East tournament as a number eight seed with a 22-8 record, and a first round bye.
"Kids that score this type of points [33 in Saturday's game] can be hard to deal with," said Bruno, "you don't find many kids that are just regular, hard working, good people, that allow themselves to be unaffected by a number like she put up tonight."
On Saturday, versus South Florida, Martin tied the sixth highest individual scoring game in Big East tournament history, with 33 points on an impressive 12-18 shooting. Martin almost had a quadruple double, as she also had seven rebounds, six assists and seven turnovers. Bruno will take those turnovers though, as long as Martin produces the way she has on and off the court.
Freshman guard Brittany Hrynko, senior guard Deanna Ortiz, and forward Jasmine Penny join Martin and Harry in DePaul's starting lineup. Guards Kelsey Reynolds and Megan Rogowski come off the bench. That includes all of the players that saw minutes in the victory over South Florida – seven players.
How will those seven be able to play against the deep and talented top seeded Notre Dame on Sunday? The Irish defeated DePaul 90-70 in South Bend on February 5, after jumping out to a 56-31 first half lead. In that game, Martin was held to three of eighteen shooting, finishing with nine points. It was one of three games all season Martin did not score in double figures. If DePaul is to have a chance, the ball will be in the hands of number 5 often, and she will produce.
No matter the result, though, Anna Martin will be putting on some dancing shoes and getting ready for the NCAA tournament.
As Bruno concluded, "I'm just blessed to be able to coach someone who is such a great human being."