Monique Oliver rises to the occassion in leading Rutgers' resurgence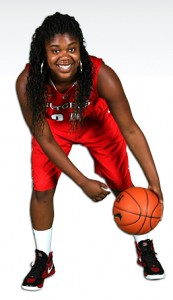 From January 29th through February 15th, C.Vivian Stringer's Rutgers team dropped five straight games, all to teams that ended up being seeded ahead of the them in the Big East tournament. They were a team that was in a state of flux, playing freshmen instead of their more experienced players, and trying different lineup combinations. The constant through the turmoil was junior center Monique Oliver, the only regular that Stringer left in the lineup. Oliver earned the trust, and as the Scarlet Knights turned things around, winning their last four regular season games and first game in the Big East tournament, she has continued to play with determination and aggressiveness.
"I've been challenging Monique. I was always impressed with her ability. She does something that very few posts can do, she can operate in really tight quarters and got those shots off. That's something I asked her a long time ago, before she even came to Rutgers," according to Stringer, "We just have to push her because the mindset needs to go along with the skills, so I was happy to see her push a little more and get those rebounds."
While guard Khadijah Rushdan was first team all-conference, and April Sykes is their leading scorer, but Oliver was honorable mention all-conference, and has improved as the season went on. Oliver averaged 11.6 points per game, while shooting 55 percent from the floor, good for fourth best in the conference. She led the teamin rebounding (thirteenth in the conference) and on defensive minded Rutgers was fourth in the conference in blocked shots.
Playing in her first Big East tournament this season, versus Marquette, Oliver said her game plan was very simple,. ""Be aggressive and make stops on defense. I wanted to work hard and help out my teammates on every play."  Stringer said they need to push Oliver to always be aggressive.
"One of the things we need to push Mo, is to just try to get her juices flowing, so we challenge her. She knows I love her. We just have to push her because the mindset needs to go along with the skills, so I was happy to see her push a little more and get those rebounds. They were doing a great job getting hands on the ball, and the first couple of possessions she lost possession of the ball. She got more aggressive, so I was really happy."
In a game that saw both teams struggle for points, Oliver thrived, making six of ten shots and eleven of sixteen foul shots for 23 total points. She added eleven rebounds, and played 36 minutes. She responded post game with her usual low key confidence.
"My main thing is to be patient, know when to take the shot and when to pass it out to my teammates. When I take my time then everything goes right."
Stringer could not agree more, but could not help looking at the future. "She's a really special young lady, and she'll have some help next year with Chelsey Lee, for sure."
Oliver will need to be aggressive on both ends if they want to defeat Connecticut in tonight's nightcap at the Big Eas tournament.