Kim Mulkey and Brittney Griner earn repeat Big 12 awards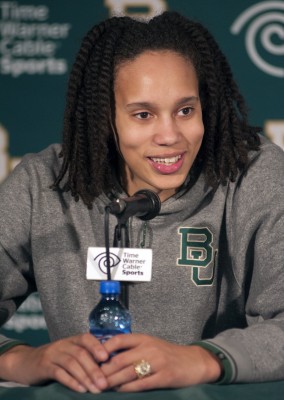 For the second straight year Baylor sweeps the top honors in the All Big 12 awards.  Baylor head coach Kim Mulkey won the Big 12 Coach of the Year honor again while Brittney Griner earned her second consecutive Player of the Year and Defensive Player of the Year awards. The Lady Bears are 31-0 including and 18-0 record in the conference.
Griners leads the league in scoring (23.3), blocks (5.1) and field goal percentage (.616). She ranks second in rebounds (9.6) and is the Big 12's career blocked shots leader (550) and ranks second on the NCAA career chart. She scored a career-high 41 points in Baylor's final regular season game against Iowa State Saturday and has scored in double-figures in 71 straight games and in 101 of 103 in her career.
Other 2011-12 All-Big 12 Awards
Freshman of the Year: Liz Donohoe, Oklahoma State
Sixth Man Award: Sharane Campbell, Oklahoma
Defensive Player of the Year: Brittney Griner, Baylor
Newcomer of the Year: Kelsey Bone, Texas A&M
ALL-BIG 12 FIRST TEAM (all honors listed alphabetical by school)
Player
School
Pos
Ht
Cl
Hometown
Brittney Griner !^**
Baylor
C
6-8
Jr
Houston, Texas
Odyssey Sims !**
Baylor
G
5-8
So
Irving, Texas
Chelsea Poppens **
Iowa State
F
6-2
Jr
Aplington, Iowa
Carolyn Davis !
Kansas
F
6-3
Jr
Houston, Texas
Brittany Chambers !
Kansas State
G
5-8
Jr
Belle Plaine, Minn.
Jalana Childs %
Kansas State
F
6-2
Sr
Orlando, Fla.
Aaryn Ellenberg
Oklahoma
G
5-7
So
Las Vegas, Nev.
Whitney Hand
Oklahoma
G
6-1
Jr
Fort Worth, Texas
Chassidy Fussell %
Texas
G
5-10
So
Troy, Tenn.
Tyra White!
Texas A&M
G
6-0
Sr
Kansas City, Mo.
 
ALL-BIG 12 SECOND TEAM
Player
School
Pos
Ht
Cl
Hometown
Destiny Williams
Baylor
F
6-1
Jr
Benton Harbor, Mich.
Angel Goodrich
Kansas
G
5-4
Jr
Tahlequah, Okla.
Christine Flores
Missouri
F
6-3
Sr
San Antonio, Texas
Tiffany Bias
Oklahoma State
G
5-6
So
Andover, Kan.
Sydney Carter
Texas A&M
G
5-6
Sr
DeSoto, Texas
 
ALL-BIG 12 HONORABLE MENTION
Kimetria Hayden (Baylor), Aishah Sutherland (Kansas), BreAnna Brock (Missouri), Liz Donohoe (Oklahoma State), Yvonne Anderson (Texas), Ashleigh Fontenette (Texas), Kelsey Bone (Texas A&M), Adaora Elonu (Texas A&M), Monique Smalls (Texas Tech)
 
BIG 12 ALL-DEFENSIVE TEAM
Player
School
Pos
Ht
Cl
Hometown
Brittney Griner
Baylor
C
6-8
Jr
Houston, Texas
Odyssey Sims
Baylor
G
5-8
So
Irving, Texas
Ashley Gayle
Texas
C
6-4
Sr
Las Vegas, Nev.
Sydney Carter
Texas A&M
G
5-6
Sr
DeSoto, Texas
Monique Smalls
Texas Tech
G
5-6
Jr
The Woodlands, Texas
 
BIG 12 ALL-FRESHMAN TEAM
Player
School
Pos
Ht
Cl
Hometown
Nikki Moody
Iowa State
G
5-8
Fr
Euless, Texas
Kyley Simmons
Missouri
G
5-7
Fr
Council Bluffs, Iowa
Sharane Campbell
Oklahoma
G
5-10
Fr
Spencer, Okla.
Liz Donohoe
Oklahoma State
F
6-0
Fr
Edmond, Okla.
Alexia Standish
Texas A&M
G
5-8
Fr
Colleyville, Texas
** Unanimous First Team Selection
! 2010-11 All-Big 12 First Team Selection
% 2010-11 All-Big 12 Second Team Selection
^ 2009-10 All-Big 12 First Team Selection
# 2008-09 All-Big 12 First Team Selection
+ 2009-10 All-Big 12 Second Team Selection
$ 2008-09 All-Big 12 Second Team Selection