Marist dismantles Fairfield to win seventh straight MAAC title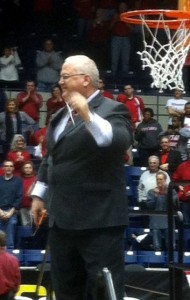 SPRINGFIELD, Mass. — In the end, it was the same result. When the nets were cut down and the trophies handed out, it was the Marist Red Foxes who were the MAAC champions again after dismantling Fairfield 61-35.
Both teams struggled in Saturday's semifinals; Fairfield coming back to beat Siena 63-48 and Marist needing overtime to defeat Niagara 68-54.The day off on Sunday was clearly just what Marist needed, as they came out fresh and strong, with confidence that had been lacking against Niagara.
"Last night I couldn't sleep," said Marist coach Brian Giorgis, "all I just kept remembering was seeing how well [Katelyn] Linney shoots, they have so many great perimeter shooters, and how are we going to stop [Taryn] Johnson inside. Finally I just had to say to myself, 'stop it! These kids have amazed you all year. They're going to do it again. They can't come this far, and not keep doing what they do.' They put on what I think is one of the most dominating performances I've ever seen in a championship game, on both ends of the floor."
Senior Brandy Gang, an undersized center who struggled against Niagara, came up big early in the game, scoring 13 of her 15 points in the first half. Defensively, Marist shut down the perimeter-oriented Stags right from the beginning, and Fairfield saw senior leading scorer Taryn Johnson on the bench in foul trouble for the second straight game. Linney was not there to pick up the Stags this time, as she shot only 2-for-10 in the first half as Marist opened their lead.
Marist was patient on offense, not afraid to use most of the shot clock, working the ball to Gang, conference player of the year Corielle Yarde and Saturday's leading scorer Kelsey Beynnon. They committed just seven turnovers. They persistently attacked the lane, and scored sixteen of their thirty points in the paint.vSeven different players scored in the first half for Marist, something Yarde pointed to as part of their success.
"I know with the type of team we had, we play well as a team, and that's what we did today. I couldn't be more excited [to win the championship]."
Yarde, the tournament Most Valuable Player was the key to an early second half run that broke Fairfield's spirit. For the half, she was five of six from the floor, two of three from three point line, had three rebounds, and only one turnover. She is capable of getting ten rebounds in a game at any time, and has really added to her shooting distance in the last year. She attacked the challenge of replacing last year's Player of the Year Erica Allenspach, and improved her game for this season.
This team is not as good as Marist team's from the recent past however. They do not have a banger inside. and they are less consistent offensively. However, they still play Giorgis' system on offense and defense, and he is the conductor of this group, a fitting analogy for a school that brings with it one of the best bands in the country. Like any great conductor though, Giorgis defers all the credit to his players and his assistant coaches. As of today Marist is projected to be a thirteen seed in the NCAA tournament, but Giorgis will not mind where his team is seeded or where they have to play. He is just proud of his team.
"This is a classic team where the whole is greater than the sum of the parts. It's got great senior leadership, with these two [Yarde and Gang] and Emily Stallings, and its great underclassmen who really believe. I couldn't be prouder."