2012 WNBA team updates and preseason rosters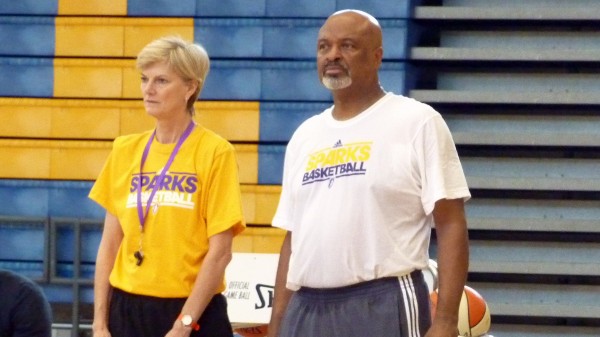 Atlanta Dream | Chicago Sky | Connecticut Sun | Indiana Fever | Los Angeles Sparks | Minnesota Lynx | New York Liberty | Phoenix Mercury | San Antonio Silver Stars | Seattle Storm | Tulsa Shock | Washington Mystics
Atlanta added three players to their preseason training camp roster last week: forwards Chelsea Regins and Aishah Sutherland and guard Brittany Johnson. Regins, a 6-2 forward, helped Georgia Tech to its best season in school history. Sutherland led the Kansas Jayhawks to their first Sweet 16 appearance in 14 years. Johnson, a graduate of Ohio State, comes off a season in Greece playing for Panionios Athens and averaging 21.7 points per game.
The Chicago Sky added Windy City native Lykendra Johnson to their training camp roster. The graduate of Michigan State help her team earn a 2012 NCAA bid and averaged 10.8 points and 8.6 rebounds per game in her senior season.
The Connecticut Sun will hold a tip-off brunch for fans on Sunday, May 6 from 11:30 a.m. to 1 p.m. ET. Fans will have a to meet the 2012 Sun roster and listen to general manager Chris Sienko and head coach Mike Thibault share their thoughts on the upcoming season. The team will give out gifts and hold a raffle and a silent auction. Proceeds will benefit the Connecticut Sun Foundation, an organization dedicated to improving the lives of the state's youth via athletic and educational endeavors.
Fever guard Briann January is back on the court for the Indiana Fever after sitting out last season due to an ACL injury. "She's as strong as she's ever been," said Kelly Krauskopf, the Fever's chief operating officer and general manager on the team's website. "Anytime you come off an ACL tear and you increase your vertical jump by 3 inches, it's thrilling to hear. That's hard to do just in general. Her next transition will be getting in basketball shape." Thirteen players were at the first day of camp.
Georgia Tech's Sasha Goodlett made a good first impression according to Kevin Messenger in the team's training camp blog.
"Goodlett was a beast down low and she spared no effort in getting up and down the floor during an end-of-practice scrimmage. She fills the lane at 6-5 and can certainly be of use working against other big posts in the Eastern Conference."
The Los Angeles Sparks look rejuvenated and reinvigorated with new head coach Carol Ross in charge. New player and the number one draft pick Nneka Ogwumike fit right in and did not look like a rookie as she practiced with the team according to Hoopfed.com writer Sue Favor who attended the first day of training camp. Star forward Candace Parker is expected to join the team Thursday or Friday.
The defending champion Minnesota Lynx set up a "Training Camp Central" for fans to keep up with their preseason preparation. On day one, 11 of the 18 players on the training camp roster practiced. Newcomer and the team's first round draft pick Devereaux Peters did not show any nerves according to head coach Cheryl Reeve.
"I thought if she was nervous, it didn't show," said Reeve to Lynx writer Mark Remme. "I asked her to be herself, and I thought she did that. The first day was as good as I thought it could go."
The New York Liberty, who confounded and angered fans with their first round selection of former Tennessee player Kelly Cain, will play again in Newark's Prudential Center this summer as Madison Square Garden renovations continue. Cain, who terminated her playing career at Tennessee due to physical issues in 2011, spent the past several months playing for Gure Belediyes in Turkey. The 6-6 center played three seasons for the Lady Vols and led the SEC in blocks her last two seasons.
The Phoenix Mercury who will be without star forward Penny Taylor this season, begin camp with new faces from the veteran ranks including two players from Minnesota: Charde Houston and Alexis Hornbuckle. Taylor tore her ACL while playing overseas for Fenerbahçe in Turkey. Andrea Riley, Alexis Gray-Lawson, and Ohio State draftee Sammy Prahalis will compete for the point guard position.
The San Antonio Silver Stars have veteran Loree Moore to help them with guard duties this season. The 5-9 former Lady Vol is familiar with several Silver Stars as she played for five seasons with the New York Liberty that included time alongside Becky Hammon, Shameka Christon and assistant coach Vickie Johnson. The Silver Stars used their fifth pick in the draft to select Miami Hurricanes guard Shenise Johnson.
"Shenise is a player that brings a lot of versatility, not only in her game but to the lineup," said head coach and general manager Dan Hughes. "She can play any position from the 3 to the 1. She also brings a high degree of athleticism and a high degree of skill
The Seattle Storm's preseason schedule includes a USA Basketball showcase that includes the team's starting point guard, Sue Bird, as the floor general of the national team. The USA faces the China National Team on Saturday, May 12. The league's first ever number one draft pick and all-time leading scorer Tina Thompson joins the Storm this season along with other seasoned players including Ann Wauters, who took a few years off from WNBA play, and Spanish player Silvia Dominguez.
New Tulsa Shock coach Gary Kloppenberg made some impressive selections in the WNBA draft and Tulsa looks to climb out of its cellar-dwelling status in the league. Even though Australian center Elizabeth Cambage will not start the season, as she is training for the Olympics with her national squad, Kloppenburg is excited about the team's outlook and its rookies Glory Johnson, Riquna Williams, Vicki Baugh and Lynetta Kizer. The Shock also added former UConn player Lorin Dixon to the training camp roster.
"We are very excited about the group of players coming to training camp this year," said Kloppenburg said. "We were able to draft four of the top college players from this past season and have added some excellent players through trades and free agency. We also have some players that did not play last year due to injury that are now healthy and ready to return as players in the WNBA."
The Washington Mystics began training camp with rookes Natalie Novosel, LaSondra Barrett, Anjale Barrett and Briana Gilbreath getting in some extra shooting. Veteran center Ashley Robinson joins the Mystics after spending the last several seasons in Seattle.